Discuss your challenges with our solutions experts
Get in touch
For details on how your data is used and stored, see our Privacy Notice.
Editorial
5 things to watch in Sub-Saharan Africa in 2019
There's much to look forward to this year across Sub-Saharan Africa: a number of key wells – some of which could be play-opening – are planned, major developments look set for FID, there are some interesting M&A opportunities on the cards.
So what will Wood Mackenzie's Sub-Saharan Africa upstream team be keeping an eye on in 2019?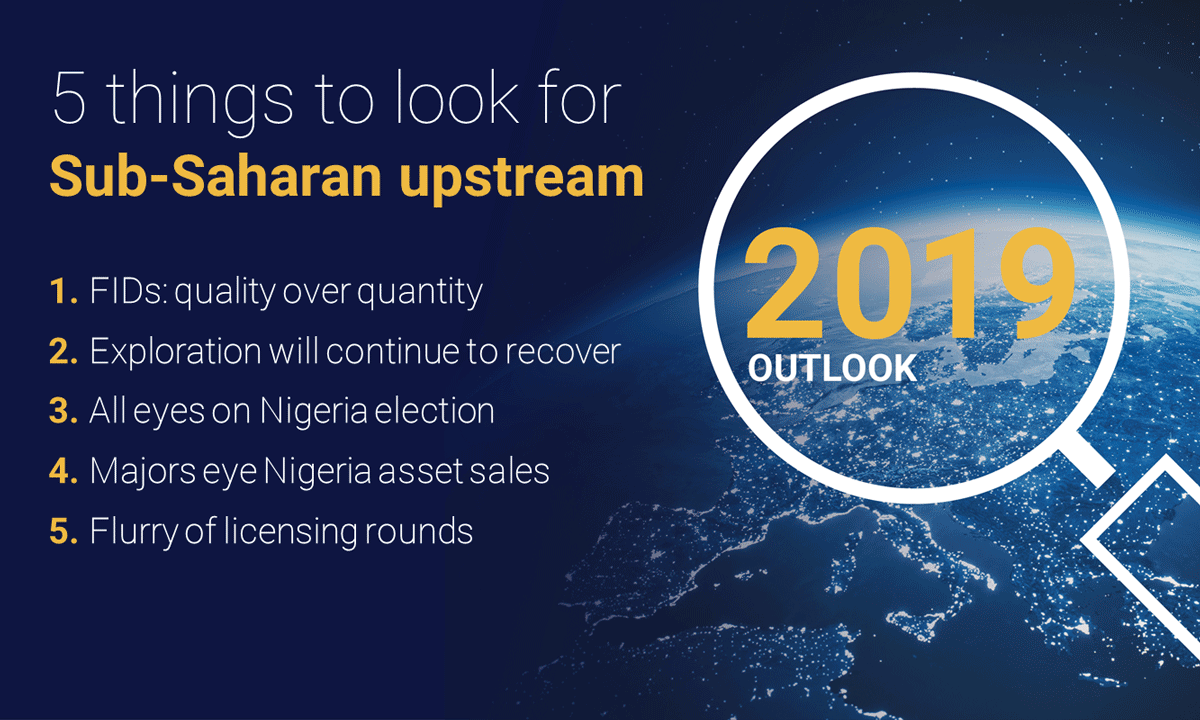 1. FIDs: Quality over quantity
While we expect fewer FIDs across the region than last year, those that get the nod in 2019 will be much larger in scope - associated reserves and capex will increase three-fold. Mozambique will lead the pack.
Both Anadarko (Area 1) and ExxonMobil/Eni (Area 4) are chasing project sanction for their LNG projects in Mozambique. We believe Area 1 LNG will be the first to take FID. Combined, the projects require US$40 billion investment and will push Mozambique's gas production up tenfold to 5 billion cubic feet per day (cf/d). Area 1 beating the more experienced Area 4 joint venture will depend on securing final third-party sales and purchase agreements. Area 4's recently closed marketing will put pressure on the Area 1 joint venture, but we don't think both projects will clear all regulatory hurdles and secure project financing in the same year.
Uganda Lake Albert
FID was delayed by a long dispute on capital gains tax for Tullow's US$700 million farm-down deal to Total and CNOOC Ltd, but a resolution is getting close. We estimate start-up in 2023. Total plans a basin-wide development of 1.4 billion barrels. Peak production should reach 230,000 b/d by 2024.
Senegal SNE
We now anticipate FID for the 560 million-barrel deepwater oil field in the second half of the year. Subsea wells will be tied into a floating production, storage and offloading vessel (FPSO) in two phases, with first oil in 2022.
Angola Block 18 West - Block 18 West will be a subsea tie-back to BP's Greater Plutonio. Block 31 Southeast will be a new FPSO project in an unexploited corner of the block. The 140 million barrel three-field development will be the first greenfield project sanctioned since 2014 and will prop up the country's rapidly declining production.
Subscribe to the Sub-Saharan Africa in brief podcast
Regular updates from the team of Sub-Saharan upstream experts responsible for the report of the same name
2. Exploration: Total takes plunge with planned high-impact deepwater wells
Exploration will continue to recover. We expect the number of exploration wells will nearly double to around 40, compared to the 24 completed in 2018. The majors remain at the forefront, targeting deepwater, high-impact, high-value prospects.
Total will complete its Brulpadda-1 AX wildcat offshore South Africa in the first quarter. The prospect has an estimated resource of over 1 billion barrels. Brulpadda is one of Total's hottest prospects in its global exploration hopper, so watch this space.
With Venus-1 in southernmost Namibia, Total will continue to lead the charge in ultra-deepwater in the Southwest African Coastal basin. Located on block 2913B, this giant prospect has multi-billion barrel potential. Its 3,000 metres water depth will be a record for Africa. However, Namibian exploration is more associated with dusters than gushers, so there is risk here.
In Angola, Total could again go beyond 3,000 metres on ultra-deepwater Block 48 with a commitment well by the end of 2019. Eni will also drill at least one of up to four exploration wells in the south of block 15/06, following the successful Kalimba-1 and Afoxe-1 oil discoveries in 2018. Another success here will trigger a cluster development.
Mozambique will be another hotspot. Eni will start exploration in block A5-A in the Angoche basin mid-year. The undrilled basin lies in deepwater to the south of the prolific Rovuma basin. ExxonMobil could steal Eni's thunder after also securing the adjacent block, A5-B. However, it may focus its early efforts on blocks Z5-C and Z5-D, closer to existing discoveries in the Zambezi basin.
3. Nigeria's presidential election could be a cliffhanger
On 16 February President Muhammadu Buhari will stand against Atiku Abubakar, a former-vice president and candidate of the opposition People's Democratic Party (PDP). Wood Mackenzie's sister company Verisk Maplecroft predicts that Buhari, whose presidency has been lacklustre, has only a 45% chance of success, so the election result could be very close.
A Buhari win would mean business as usual, but there are implications for the upstream industry should Abubakar triumph. A change of government will herald sweeping changes at the top of the Ministry of Petroleum Resources and NNPC. Abubakar plans to partially privatise NNPC. However, as Buhari's tenure has shown, proposing change in opposition is one thing, implementing it in government is quite another.
4. M&A: Nigeria to dominate as majors eye asset sales
We expect Nigeria to dominate Sub-Saharan Africa M&A on the back of 20-year onshore licence renewals that are in progress for the Shell joint venture. Shell (30%), Total (10%) and Eni (5%) are likely to sell their combined interests in a handful of non-core mature oil blocks, which could include OMLs 11, 17, 20, 22 and 25, among others. There is potential for Chevron to trim its shallow-water portfolio, while ExxonMobil might be persuaded to part with some fallow fields from its core OML 67 and 70 production hubs.
Elsewhere, a significant deal could occur in Angola, where Sonangol is looking for partners to invest in many of its deepwater licences, including blocks 20 and 21. These hold Angola's largest undeveloped resources, totalling over 1.3 billion barrels of liquids and 4.75 tcf of gas.
5. Licensing: Lots on offer, but is it attractive?
This year will see a flurry of licensing rounds. Thirteen countries confirmed rounds will be held, however, many may struggle to attract major players due to small prospect size, tough fiscal terms or above-ground risk.
The most prospective acreage is in Mozambique's Rovuma basin, Senegal's Bove basin and Angola's Kwanza basin. As these are predominantly deepwater and gas-prone, they will be sought by a small cohort of majors and African-focused explorers. Companies will continue to look for oil however, as commercialising gas in Sub-Saharan Africa is a long-term, expensive game.
Mature shallow water and oil-prone acreage will come up in Gabon and Congo which is attractive to smaller to mid-size players. Other rounds, such as those in Equatorial Guinea, Gabon, Sierra Leone and Uganda, have smaller expected discovery sizes and will struggle to attract major players.
Insight
Get our experts' latest analysis of the key events impacting the upstream industry in Sub-Saharan Africa
Sub-Saharan Africa upstream in brief
Purchase here