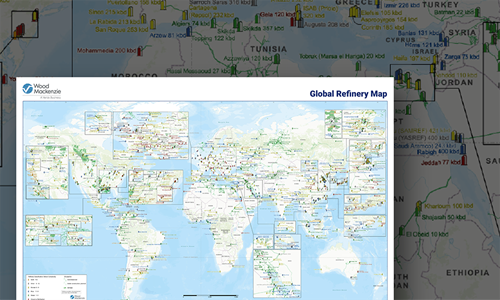 Summary
Wood Mackenzie has published a map showing the location and refinery type for the world's refining assets.
The map highlights refinery capacities for over 700 global assets and assigns a refinery type to each.
Refinery Type classifies each asset into one of six different complexity ranges (Nelson Complexity):
Gold: >12
Silver: 9-12
Bronze: 6-9
Blue: 3-6
Green: 1-3
Red: Refineries closed after 01/01/2010 or mothballed
This map is founded on Wood Mackenzie's highly regarded Net Cash Margin analysis for every refinery in the world over 50 kbd.
This map is invaluable to anyone interested in the downstream oil refining sector. Wallmaps bought online will be couriered to you within 5 days.
Why buy a wallmap?
Our maps bring together trusted data and research from across the globe. And we have a team of analysts and researchers committed to ensuring the continued accuracy and consistency of data across the entire collection. With a Wood Mackenzie map, you can:
Gain an instant visual appreciation of multiple assets and markets across global locations.
Use them as reference documents in group discussions
Get a single, reliable overview
What will you receive?
Printed to make a big and lasting impression, each map is 84cm x 120cm or 33 inches x 46 3/4 inches on 180gsm paper
Couriered to you within 5 working days when purchased online
Delivered in a tough cardboard tube to ensure maps reach you in pristine condition
Browse reports by Industry Sector