Opinion
China-US relations, tech wars and climate change
'Dual circulation' vs 'Made in America' sets the stage for rising competition in climate change leadership

Gavin Thompson
Vice Chairman, Energy – Asia Pacific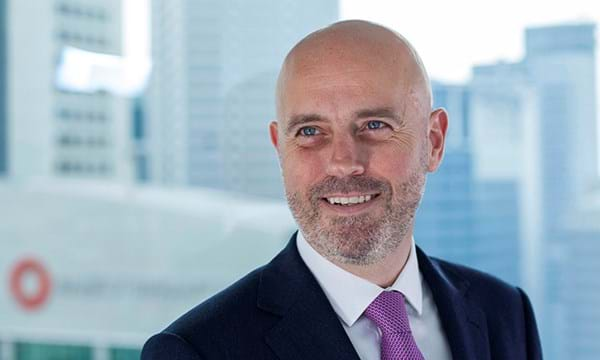 Gavin Thompson
Vice Chairman, Energy – Asia Pacific
Gavin oversees our Asia Pacific research helping companies identify and build their international growth strategies.
Latest articles by Gavin
View Gavin Thompson's full profile
When President Xi Jinping spoke of the risks of 'tech wars' at the World Economic Forum's virtual Davos Agenda event on Monday, there was little doubt who he was aiming at. At a White House briefing later that day, press secretary Jen Psaki stated that "Technology is of course at the centre of US-China competition."
China has emerged stronger from the chaos of 2020. The only major country to enjoy growth over the past 12 months, the impact of the pandemic is hastening China's rise to become the world's number one economy by as early as 2026 (largely depending on the value of the renminbi). But this isn't only being felt in GDP numbers. The drumbeat of China's challenge to the historical leadership of the US is growing louder, with a more assured Beijing looking to hold greater sway over the global economic rulebook, multilateral institutions and, of course, technology.
Even if we can expect a more diplomatic tone to relations between Washington and Beijing under President Biden, competition over resources and technology makes détente difficult. Coming good on existing commitments to buy more US energy may support short-term improvements in bilateral trade, but it is likely that broader trends around access to technology will put increasing strain on longer-term cooperation. With the return of the US to the Paris Agreement, combined with President Biden's ambitious decarbonisation agenda and China's push for energy security, the stage is being set for rising competition around global climate change leadership and control over the resources and technology to deliver the energy transition.
Read also: Biden administration and what it means for China and rest of Asia Pacific
Economic decoupling and shrinking trade
China's leaders have for some time believed the country should be less dependent on the rest of the world for growth, while even before the pandemic there was bipartisan support in the US to reduce reliance on overseas supply chains, particularly from China. The response has been China's 'dual circulation' policies and President Biden's 'Made in America' agenda.
As a result, we can expect continued economic decoupling between the US and China, though I'd suggest that the risk of a rapid acceleration has reduced with the change in the White House. Trade inevitably remains the immediate policy focus of the US-China relationship, and WoodMac's macroeconomics team expects the January 2020 Phase 1 trade deal will remain in place, despite the agreement looking broadly unachievable.
This doesn't mean we won't see numerous amendments and additional agreements, though optimism remains muted. Efforts to shorten supply chains will continue, as will disputes over technology such as those currently embroiling Chinese companies like TikTok and Huawei. And with the relationship expected to remain fractious, overall trade volumes between the two countries will continue to fall.
Crude and LNG providing a bright spot – for now
Energy trade could offer some upside, however. China's Phase 1 trade deal commitment to purchase an additional US$52.4 billion of energy from the US by the end of 2021 was a positive step, even though achieving it now looks a stretch. Lower oil prices mean higher volumes of imports to meet the target, and reduced US crude production and limited recovery in crude processing in China make this tougher still.
Nevertheless, crude imports from the US ramped up through last year to average around 350,000 barrels per day (b/d) for 2020. But this is still way below the more than 1.5 million b/d we believe is required to meet the deal. China's temporary lifting of the LNG import tariff has helped increase volumes, but again by nowhere near enough to fill the gap left by reduced crude imports.
A battle for the heart and soul of global climate change leadership
While China's purchase of additional volumes of US energy should provide common ground, competition over global climate change leadership is likely to prove far more divisive – and with far greater consequences. For China, tackling climate change is closely tied to energy security, driving a push to not only lead world efforts against global warming, but to ensure the country has significant control over the raw materials and technology to deliver this. Under Biden, the US increasingly wants to do the same. Strategic competition in these areas will help define the future of energy supply, investment and pricing for decades to come.
With Biden re-entering the Paris Agreement, I expect we will see an uptick in net zero 2050 announcements as US companies feel pressure to set similar targets. As a result, competition will increase for clean energy sector resources, including battery metals and renewables supply chains. For the US (and others), here's the rub: many of these are already dominated by China. Take solar module production as an example. Around two-thirds of global output sit within China, and Chinese manufacturers also own significant capacity in other markets, taking China's control even higher.
There is no doubt that China's dominance of clean energy industries such as renewables and battery value chains is well understood in Washington. If the US falls further behind in the race to lead the development of the resources and technologies needed for the energy transition, the likelihood of cooperation and collaboration on climate change will be eroded further. A zero-sum game for the world's biggest challenge.
APAC Energy Buzz is a weekly blog by Wood Mackenzie Asia Pacific Vice Chair, Gavin Thompson. In his blog, Gavin shares the sights and sounds of what's trending in the region and what's weighing on business leaders' minds