Sign up today to get the best of our expert insight in your inbox.
Sign up for The Inside Track
For details on how your data is used and stored, see our
Privacy Notice
.
Opinion
COP28: frequently asked questions
From Paris Agreement goals to the global stocktake, here's what you need to know about COP28
The COP28 conference on climate change will take place in Dubai from 30 November to 12 December. But what is COP, why is it such an important event – and what's on the agenda? Read on for an overview.
What is COP?
COP, or the Conference of the Parties, is a critical global event in the fight against climate change. It stems from the United Nations Framework Convention on Climate Change (UNFCCC), initiated three decades ago during the Rio Summit. Each year, member countries come together to discuss and determine the world's climate ambitions, and responsibilities, and evaluate climate measures.
The 21st session of the COP, known as COP21, resulted in the historic Paris Agreement. This pivotal accord aimed to limit global warming to 1.5 °C above pre-industrial levels, emphasising the need for urgent action to adapt to existing climate change effects. It was adopted at the conference in Paris in December 2015 and entered into force in November 2016.
What happened at COP27?
COP27, held in Sharm El-Sheikh in 2022, signalled a notable shift from mitigation to adaptation in climate action. The conference was arguably shaped by the immediate concerns of energy security and affordability, highlighting longer-term goals aligned with the Paris Agreement's 1.5 °C ambition. No consensus was achieved on phasing down coal, seen as a prelude to fossil fuels more generally.
COP27 did take a step forward towards a just and equitable transition with a breakthrough agreement on loss and damage. It was agreed that additional finance would become available for countries vulnerable to the effects of climate change.
COP27 was heavily influenced by the immediate political necessities of energy security and affordability.
Simon Flowers
Chairman, Chief Analyst and author of The Edge
Simon is our Chief Analyst; he provides thought leadership on the trends and innovations shaping the energy industry.
Latest articles by Simon
View Simon Flowers's full profile
Read more on this in Simon Flowers' five key takeaways from COP27.
When and where is COP28?
COP28 will take place from 30 November to 12 December 2023 in Expo City, Dubai.
The choice of location for COP28 has stirred some controversy, as the United Arab Emirates is one of the world's leading oil-producing countries. The dual role of COP28 president, Sultan AI Jaber, who is also the chief executive of the Abu Dhabi National Oil Company (ADNOC), has drawn criticism. Ed Crooks and his guests explored the controversy in an episode of the Energy Gang podcast.
Who's participating in COP28?
COP28 is poised to be a monumental international gathering with an expected participation of over 70,000 delegates. There are now 198 Parties (197 countries plus the European Union) to the Convention taking part in formal negotiations, which will also be attended by observers including NGOs and the media. non-government organisations, corporations, youth groups and other stakeholders.
Participating universities are also actively engaged, contributing to the discussion and action on climate change.
The conference will feature two zones:
Blue Zone (Managed by UNFCCC)
Accessible to accredited parties and observer delegates for formal negotiations, the World Climate Action Summit and official side events including panel discussions, round tables and cultural events.
2. Green Zone (Overseen by the COP28 UAE Presidency)
Open to all, providing a platform for dialogue between non-accredited delegates including youth groups, civil society, the private sector and indigenous groups.
What will be discussed at COP28?
COP28 will revolve around four central, cross-cutting themes, each addressing a key aspect of the global climate challenge:
Technology and innovation. COP28 aims to inspire stakeholders to lead a transformative industrial revolution, accelerating the development and deployment of climate solutions.
Finance. Finance plays a pivotal role, intricately linked with climate transition and adaptation. This theme encompasses a wide range of critical issues, from renewable energy investments to building resilient relief systems.
Inclusion. COP28 aims to involve all voices in the climate discourse, including youth, entrepreneurs, gender groups and indigenous communities.
Frontline communities. Focusing on the challenges faced by those communities experiencing the most immediate, and often most severe, impacts of climate change, reinforcing the need for prompt action and support.
How is COP28 different from previous conferences?
COP28 will mark the pivotal halfway point between when the Paris Agreement was established, and its 2030 targets. The conference will address essential tasks such as implementing the loss and damage fund established at COP27, developing a framework for the Paris Agreement's global goal on adaption (GAA), and tackling pressing issues like the energy transition and food systems transformation.
The conference's discussions and negotiations on climate finance will be key, with the aim of fulfilling existing promises and working towards a new climate finance deal.
With the first-ever global stocktake scheduled to conclude at COP28, the conference strives to identify and fill the gaps and put the Paris Agreement's goals within reach. The expectation will be that parties return in 2025 with updated Nationally Determined Contributions (NDCs) to deliver on agreements reached.
What is the global stocktake?
The global stocktake (GST) is a critical point in our battle against the escalating climate crisis. Its purpose is to conduct a comprehensive assessment of the collective progress towards achieving the Paris Agreement's objectives.
This assessment encompasses three crucial domains: mitigation, adaptation and means of implementation. It will evaluate global efforts to reduce greenhouse gas emissions, enhance resilience and align financial support accordingly.
This year the first-ever five-yearly global stocktake will conclude at COP28. It should not be merely an audit of failures but a global catalyst to keep 1.5 °C and climate-resilient development pathways within reach.
Is the world on course to meet Paris Agreement goals?
The current trajectory of global efforts does not align with the most ambitious climate goals set by the Paris Agreement. In Wood Mackenzie's energy transition outlook, we've outlined three potential routes through the energy transition, each demanding higher levels of ambition and investment. These scenarios include:
Base case.

Our assessment of the most likely outcome based on the evolution of current policies and technologies.

Country pledges.

Our view of how countries' existing emissions targets are achieved, roughly in line with a 2-degree warming trajectory.

Net zero by 2050.

A credible pathway of how the goal of limiting global warming to 1.5 degrees by 2100 can be achieved

.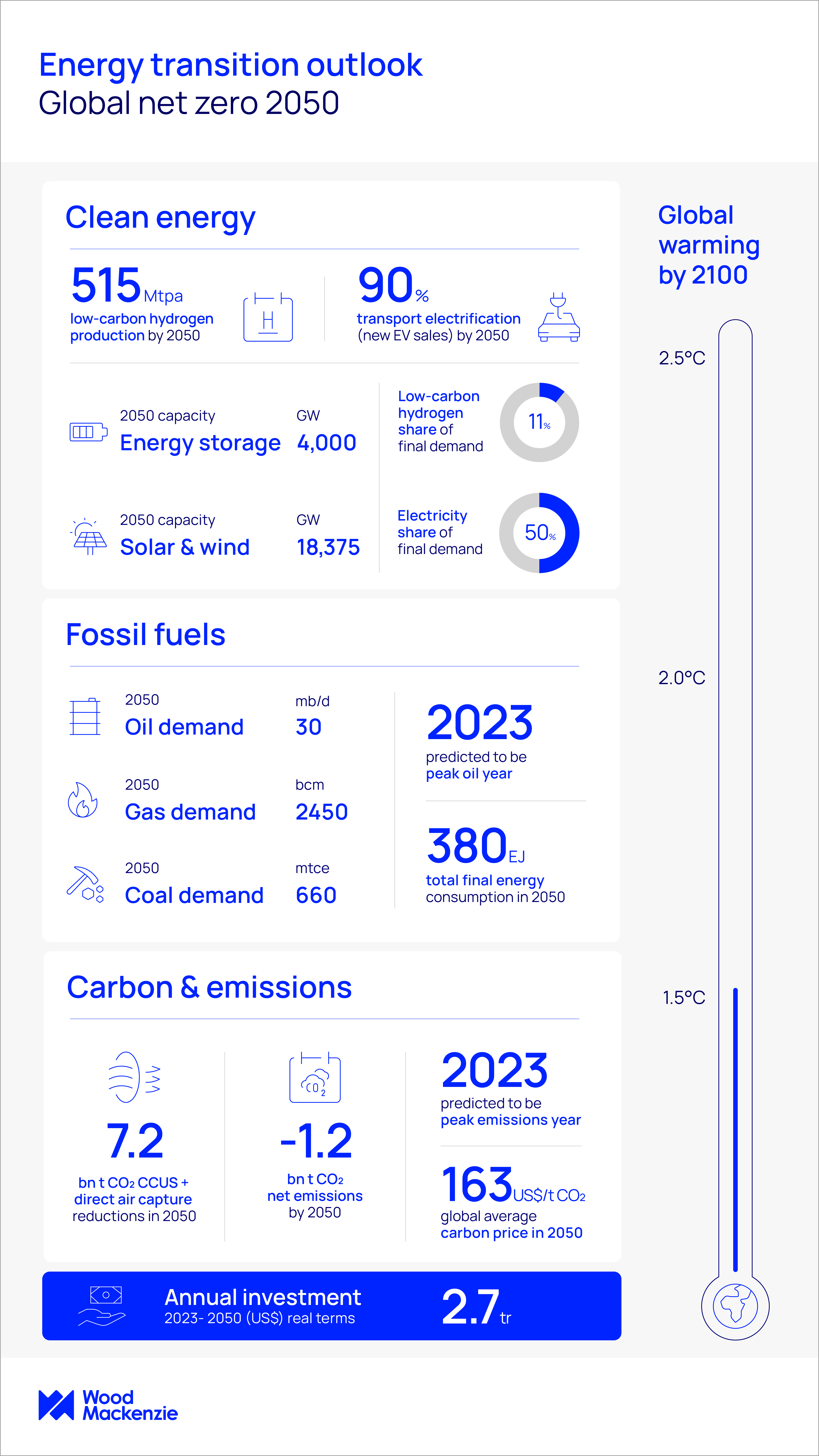 The recent comprehensive report by the UN's climate body also underscores the urgent need for substantial and immediate action to curb global warming.
The forthcoming COP28 climate conference stands as a crucial crossroads. Success depends on governments making resolute new commitments and taking actions that redirect us onto a better path. It has the potential to rally nations, inspiring them to collaborate more closely to navigate the complexities of the energy transition.
Read Simon Flowers' take on what it takes to get onto a 1.5 °C pathway.
How can I find out more about COP28?
If you want to stay up to date with the latest developments and our expert analysis, here's how: