In-booth presentations will take place during the three-day conference. Join us:
Benchmarking the majors: Monday, July 22, 3:15-3:45pm and Wednesday, July 24, 10:15-10:45am: Jake Sharp
Completions cost savings: Tuesday, July 23, 10:15-10:45am: Andrew Utz
Core vs non-core acreage: Tuesday, July 23, 3:15-3:45pm: Stephanie Scollard
24 July, 11:30am MDT
URTeC is coming to a close today.
My final thoughts on the show?
There's a huge need to increase technology collaboration. And fast. The 'information asymmetry' between what's available and what's impacting decisions is massive. E&Ps admit to being overly conservative with trialling new technology. HR functions need to adjust and reward innovators more. E&Ps need to put pressure on technology companies too. We shouldn't bear the stress of building every new tool.
Infill wells will become more customised, so benchmarking and time series work off simple metrics like lateral length and proppant loading will become less valuable.
Thanks, on behalf of the entire Wood Mackenzie team, for making this show so special for us as we launched Lens for the world to see. It's been a fantastic ride. We'll see you next year in Austin.
-Robert Clarke, research director
24 July, 11:15am MDT:
Permian, Permian, Permian. You know the Permian Basin is big when you fly home to Korea, and your dad is asking how he's getting cheaper gas from the Permian.
Cheap gas might be great for my dad, but it's not ideal for Permian E&Ps. With spare gas pipeline takeaway capacity limited, I expect Waha basis price to be pressured in the near term.
A little relief is coming: the start-up of the Gulf Coast Express pipeline in late September 2019 will lend some price support.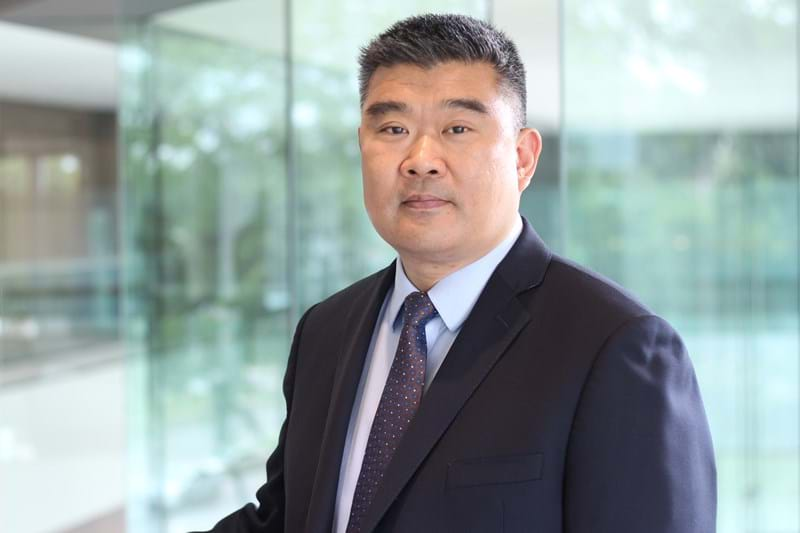 Eugene Kim presents a technical paper at URTeC.
24 July, 11am MDT:
How do you monetize growing Permian Basin supply? It starts with understanding the bottlenecks impacting oil and gas prices.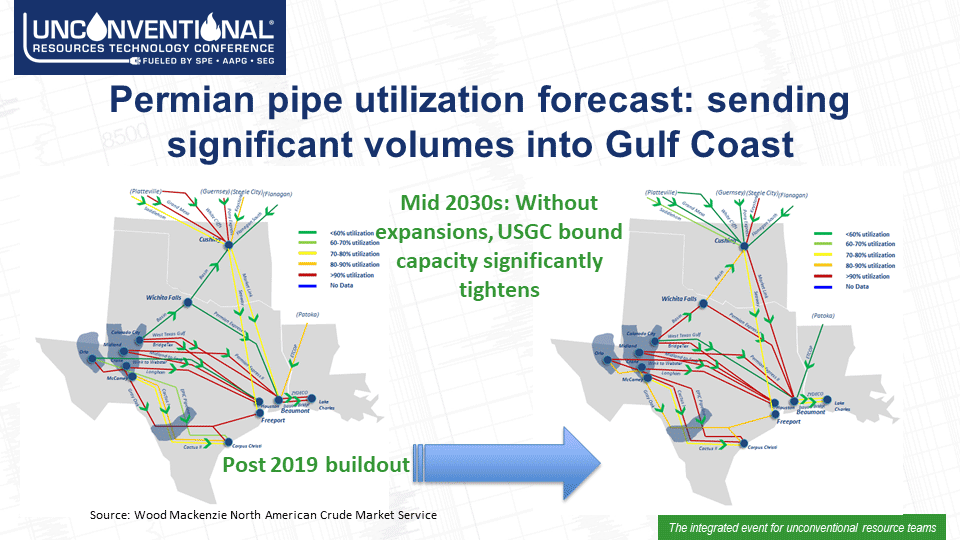 On the oil pipeline side, signifcant buildout is coming. We see existing long-haul capacity effectively doubling. We're sending huge volumes to the Gulf Coast, but market access concerns don't end there. As our North America Crude Market Service analysis shows, constrains will continue at US Gulf crude export terminals.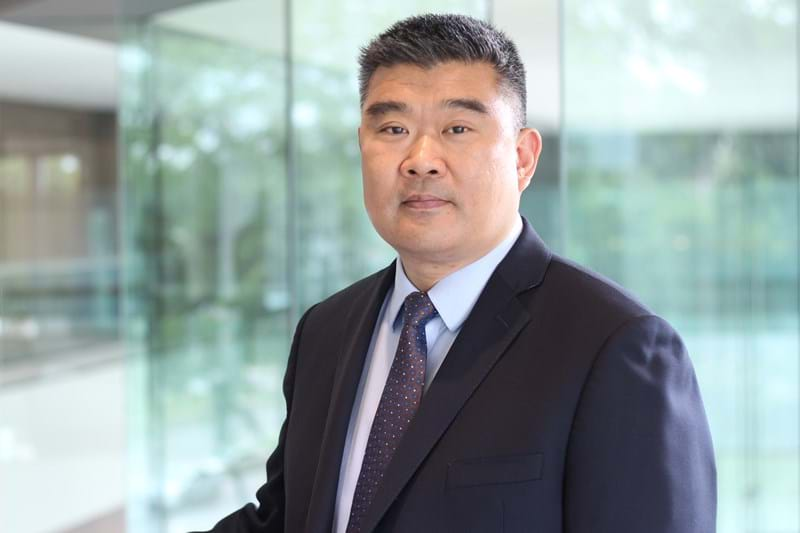 Eugene Kim presents a technical paper at URTeC 2019.
24 July, 10am MDT: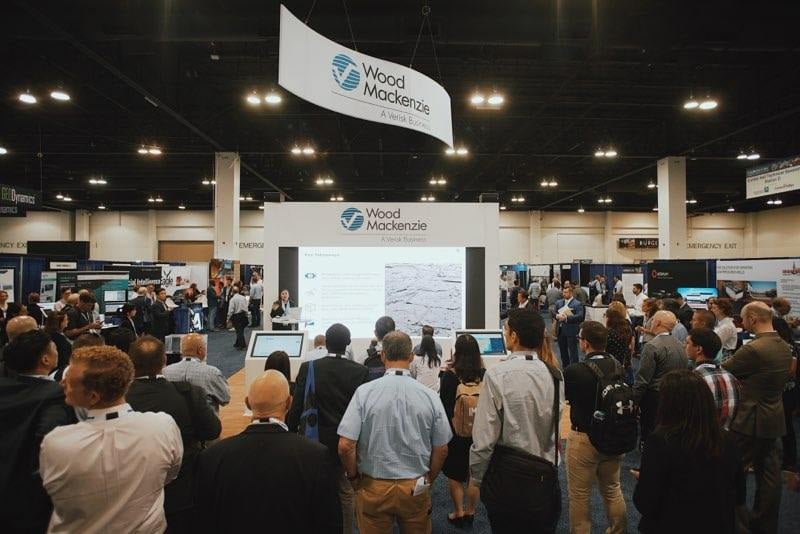 URTeC has flown by. We're about to start our very last Lens presentation at 10:15am. These are the kinds of crowds that our technology has drawn in over the past two days. If you still haven't taken a look at our benchmarking tools, stop by booth #1323 before the show concludes!
It's been a true pleasure showing URTeC delegates just what Lens is capable of. Thank you all for demoing our technology of the fittest.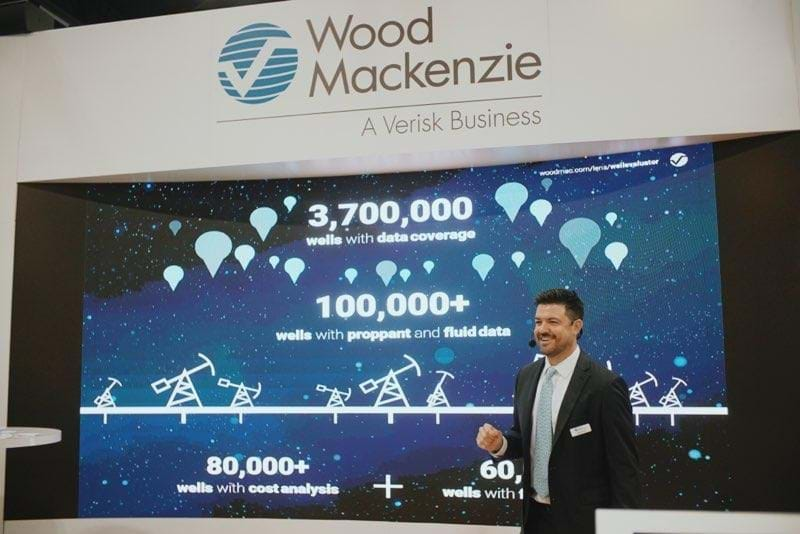 Jake Sharp demos Lens technology at URTeC 2019.
24 July, 9:30am MDT:
The importance of midstream water companies is growing in the Permian Basin. As the need for more pipelines and saltwater disposal wells continues to grow, what's the role of the biggest midstream players, like Enterprise and Energy Transfer Partners?
There could soon be a very clear rationale for these players to enter the space.
Water midstream companies can be better placed to tackle complex and growing water-related challenges by linking operator positions and offering economies of scale. This helps limit operational risk at a reasonable cost to E&Ps.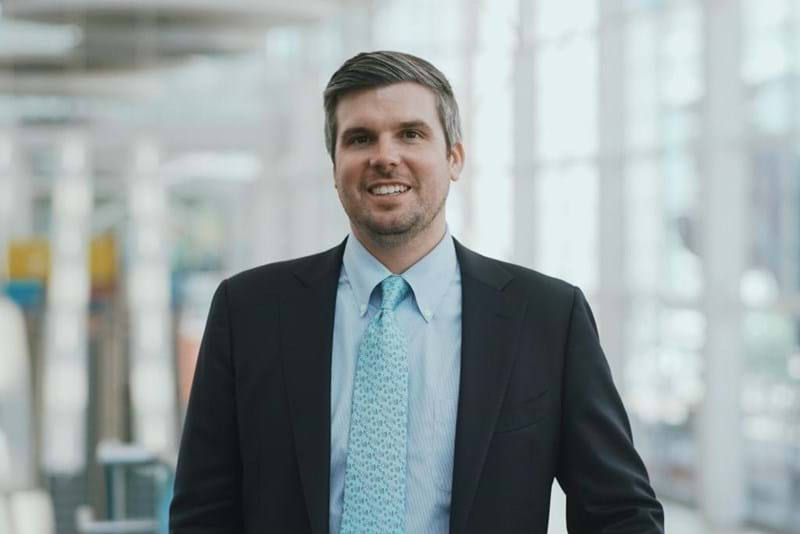 Ryan Duman presented a technical paper at URTeC 2019.
23 July, 3:30pm MDT: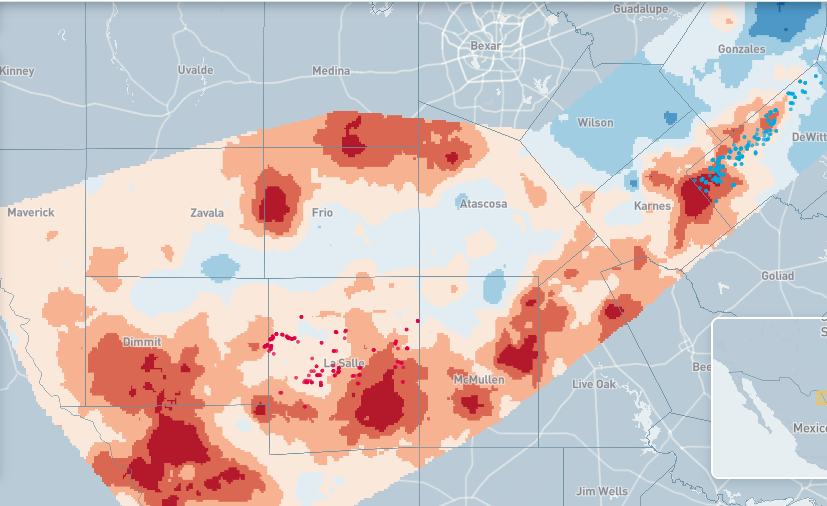 The TOC map provides an indication of generation potential. Areas in red show higher TOC values, and indicate good to very good hydrocarbon generation potential. TOC across the lower Eagle Ford is fair to good, but notice how the values in the core area are higher.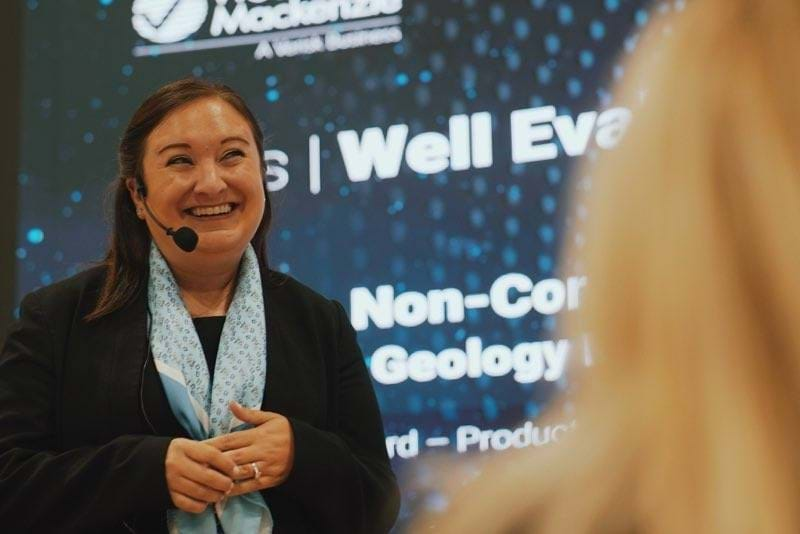 Stephanie Scollard demos Lens technology at URTeC 2019.
23 July, 3:20pm MDT:
When making decisions, it is important to understand why wells in the same formation perform differently. Understanding the subsurface can provide context as to why wells may perform poorly and give indications of potential future challenges to enhancing production.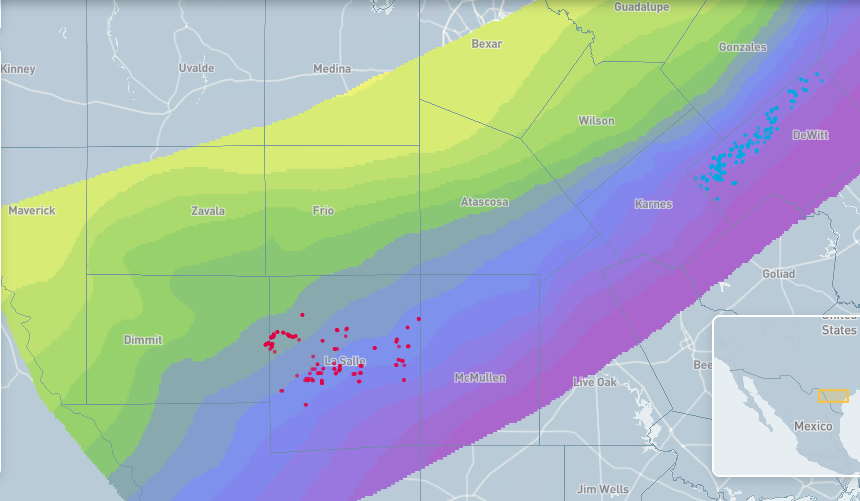 Key attributes we look to understand in the subsurface are formation depth and pressure conditions, reservoir thickness, total organic carbon content, porosity, and permeability.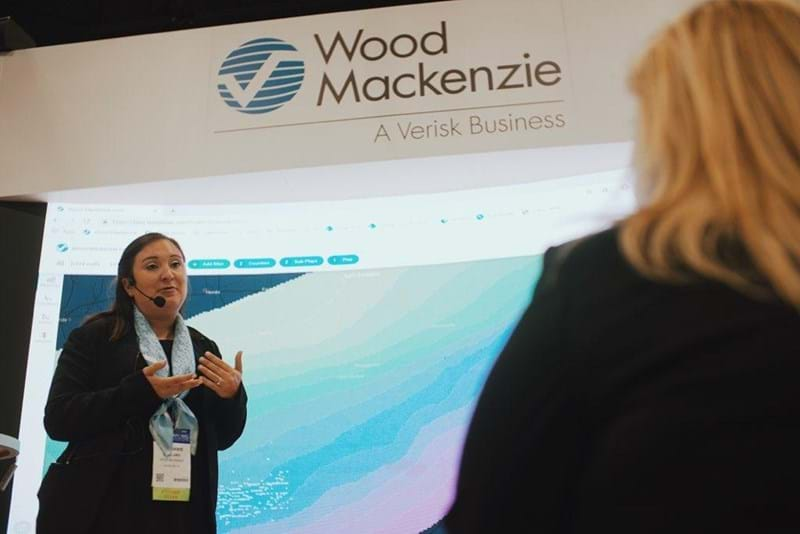 Stephanie Scollard presents Lens technology at URTeC.
23 July, 12:45pm MDT:
Even though E&Ps are fighting strict budgets, there's still huge appetite to use technology to increase acreage net present value. We were surprised to see how many folks travelled to Denver. Organisers have mentioned almost 5,000 attendees. Said another way, the technology solutions used in shale today aren't enough carry the sector forward.
A speaker during the plenary mentioned that EUR is losing its importance as a metric. It's a bold statement that we don't fully agree with, but it speaks to how operators are thinking about how best to generate near term cash flow. Limit spending, but generate huge production volumes up front. Consistent with this, our paper on accelerated Permian decline rates was received with lots of nodding heads in the crowd.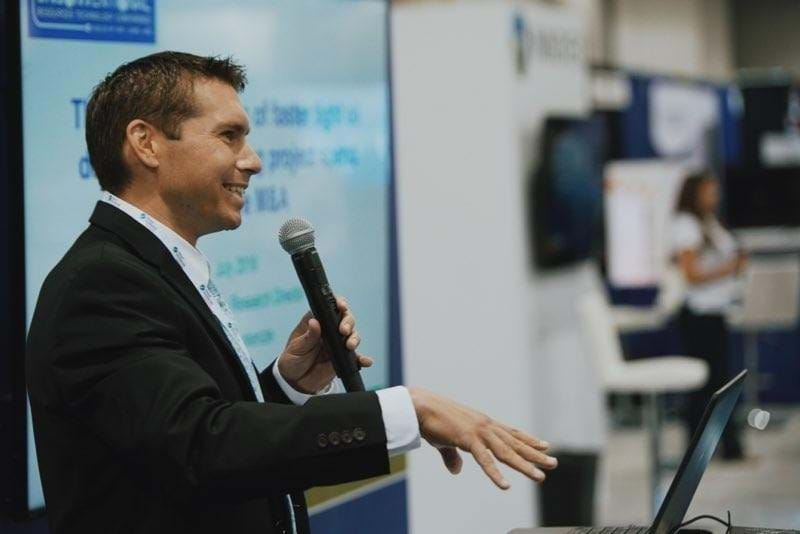 Rob Clarke comments on URTeC trends.
23 July, 11:45am MDT:
Does your lease data work for you, or against you?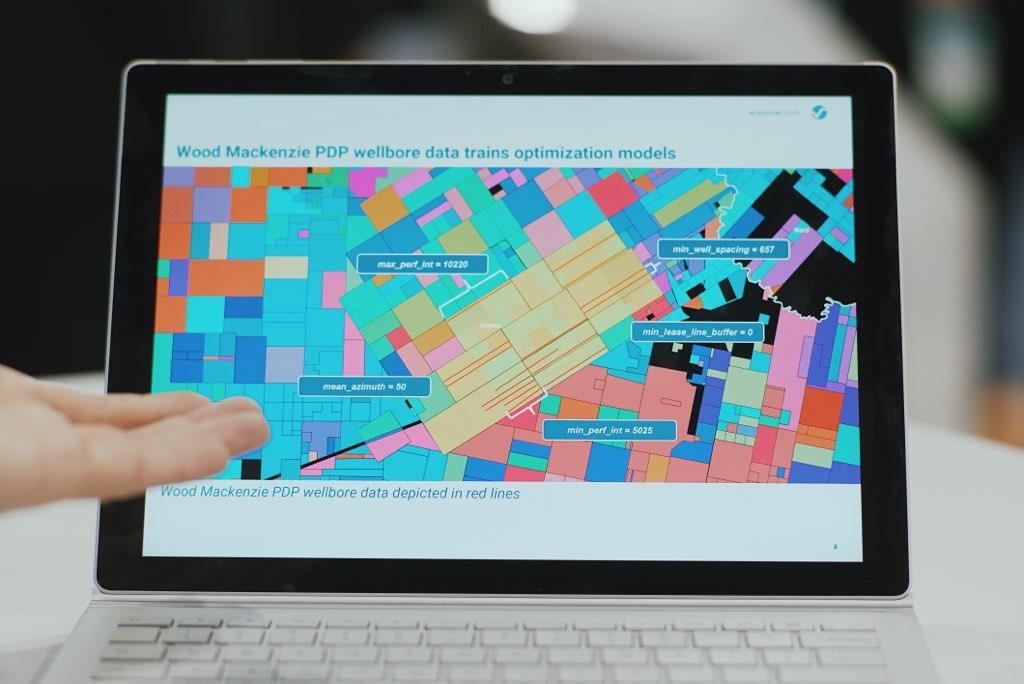 We've partnered with P2 Energy Solutions to create trained models that optimally space undrilled locations inside each drilling unit.
Improve your current and future well spacing analytics. Our well data, combined with P2's lease and production unit content creates a never-before-seen solution. Now, landmen, engineers and analysts can all use a common language.
Stop by our booth 1323 to see the prototype today at URTeC.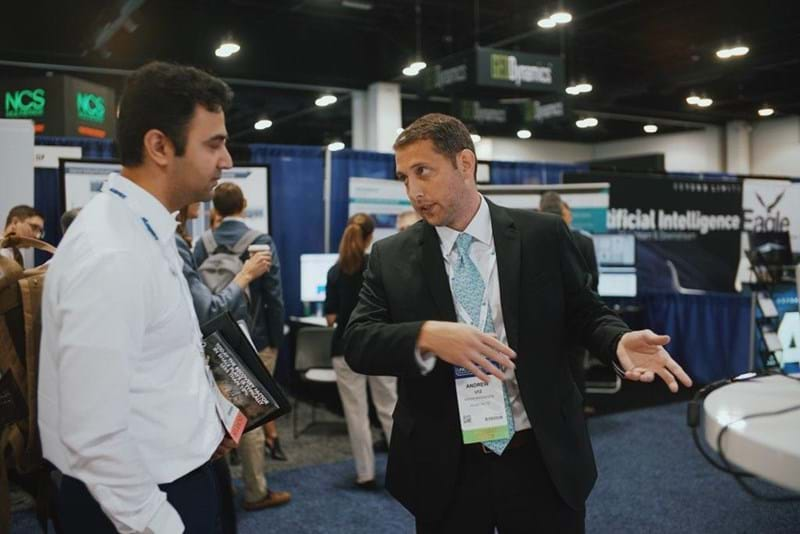 Andrew Utz demos Lens technology at URTeC.
23 July, 10am MDT:
Completions cost savings techniques are essential for top producers like Occidental.
Oxy's Cedar Canyon 2nd Bone Spring wells are some of the most productive in the play -- and while porosity is high, formation thickness in the area is much lower.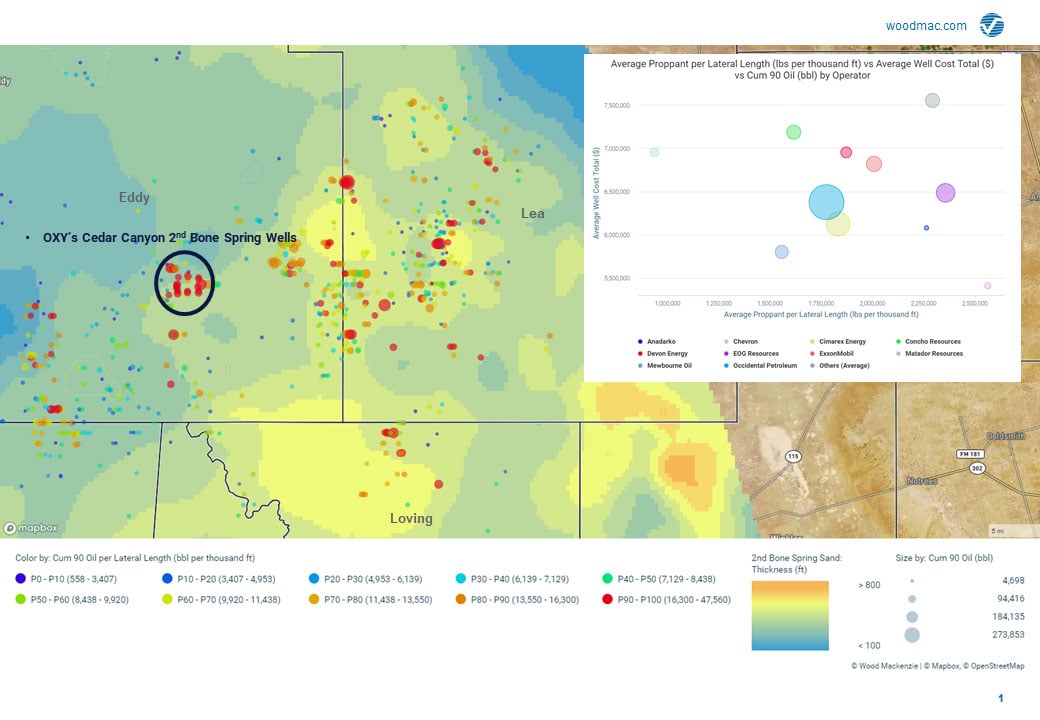 Oxy was able to create significant value by effectively landing laterals and designing completions for quality over quantity.
Recent 2BS completions by Oxy utilize less than 2,000 lbs/ft, resulting in average well costs below $7 million.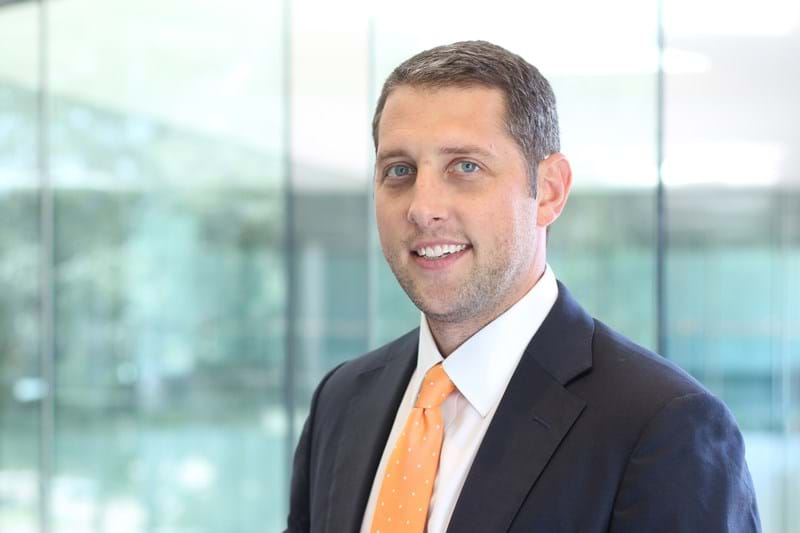 Andrew Utz demos Lens technology at URTeC.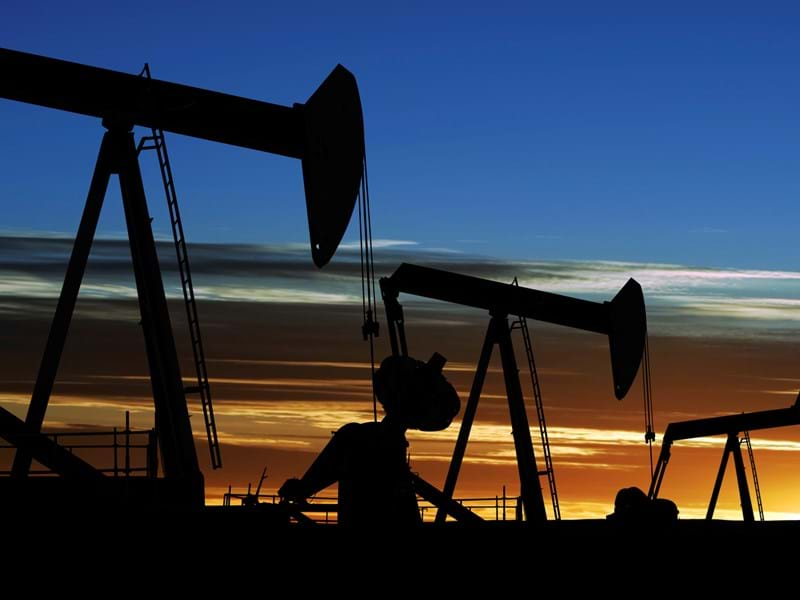 23 July, 9:20am MDT:
Walking around the URTeC trade show floor yesterday, it was clear that we're not the only ones pouring extensive time and effort into our benchmarking and valuations software. As we launched Wood Mackenzie Lens on Monday night, it also became clear that what our team has developed is truly unique compared to its competitors – our cost data is unmatched and it shows.
My philosophy on all this competition? I say this: compare Lens with the rest. I'm confident you'll find our cost data and binning capabilities truly differentiates Lens. Stop by booth #1323 today and see our technology for yourself. We'll let you test drive Lens for 14 days. You're going to get hooked.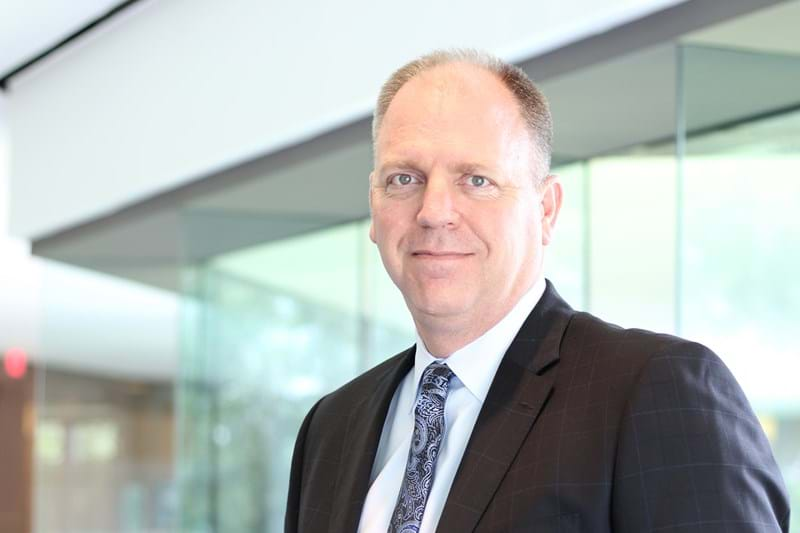 Tom Wilker, SVP, subsurface.
22 July, 3:35pm MDT:
We have the data of the fittest.
Have you ever wondered what 3.7 million well data points looks like in the Lower 48? Now you know.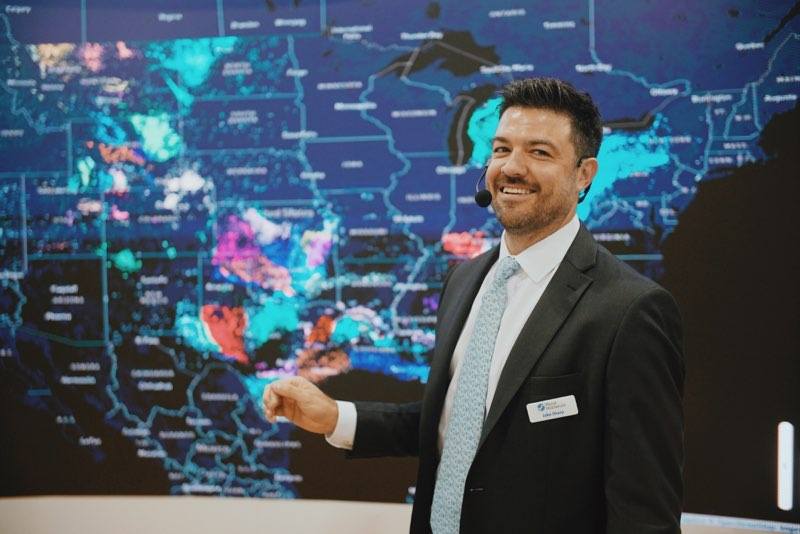 22 July, 3:25pm MDT:
Have you checked out our new Well Evaluator technology yet? What are you waiting for?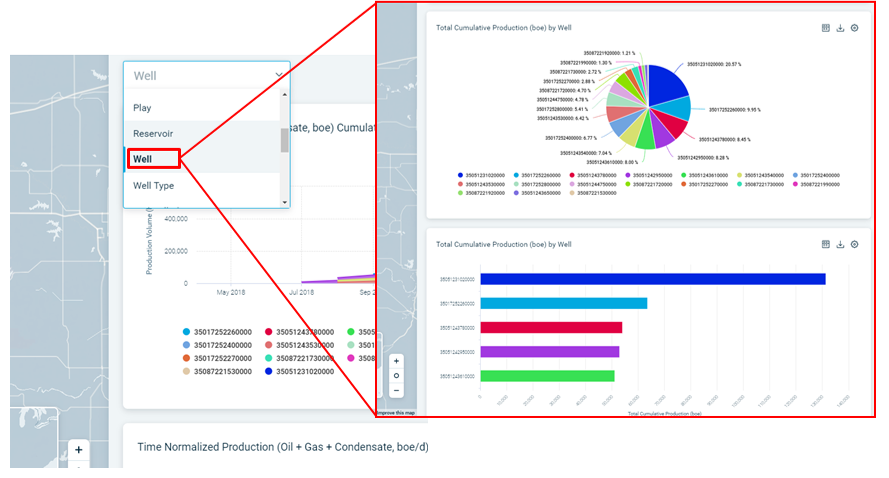 Make direct comparisons of key wells with Lens. Here's a look at fine-grained well level analysis. Stop by our booth for a Lens demo.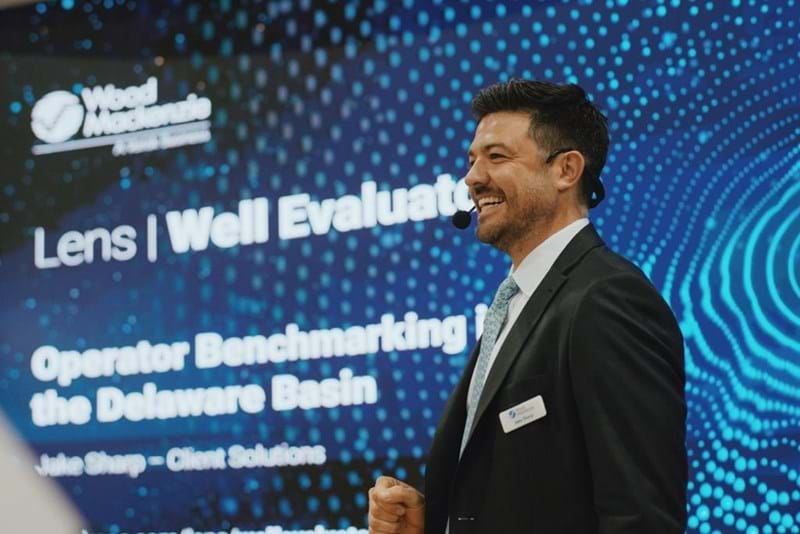 Jake Sharp demos Lens technology at URTeC 2019.
22 July, 3pm MDT:
I'm gearing up to start the first Wood Mackenzie Lens demo of URTeC 2019. Swing by booth #1323 to see my presentation.
The objective?
Identify the top performers in the Delaware Basin and analyze whether or not their completions strategy is giving them a material advantage over the competition.
I'll answer the following questions:
Who is the top producer in the Delaware Basin?
What are the top 5 companies in terms of EUR and IP?
Who is most active in terms of drilling activity?
How does their type curve compare to close competitors?
Can you differentiate their completions strategy?
Can you attribute their success to this difference?
I hope to see you soon at booth #1323.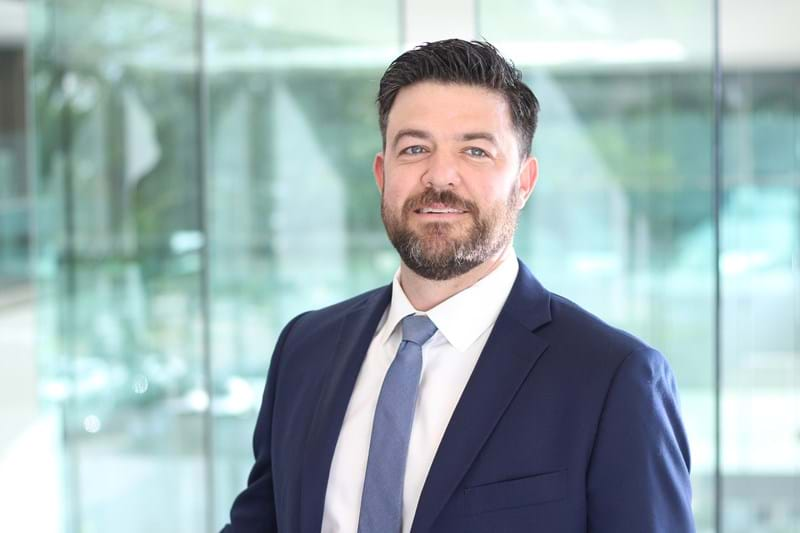 Jake Sharp demos Lens technology at URTeC 2019.
22 July, 11:20am MDT:
Data on mature horizontal Wolfcamp wells suggest long-term decline rates exceed 10%.
Instead of tracking analogue and proxy values between 5% and 10% for year five, Wolfcamp wells were closer to 15%.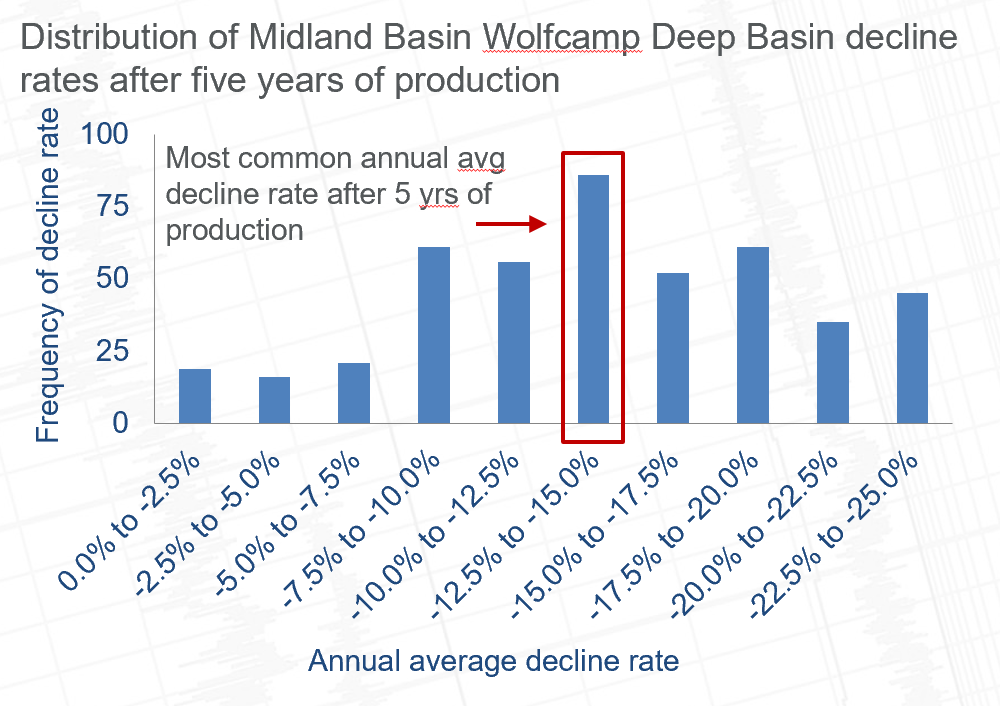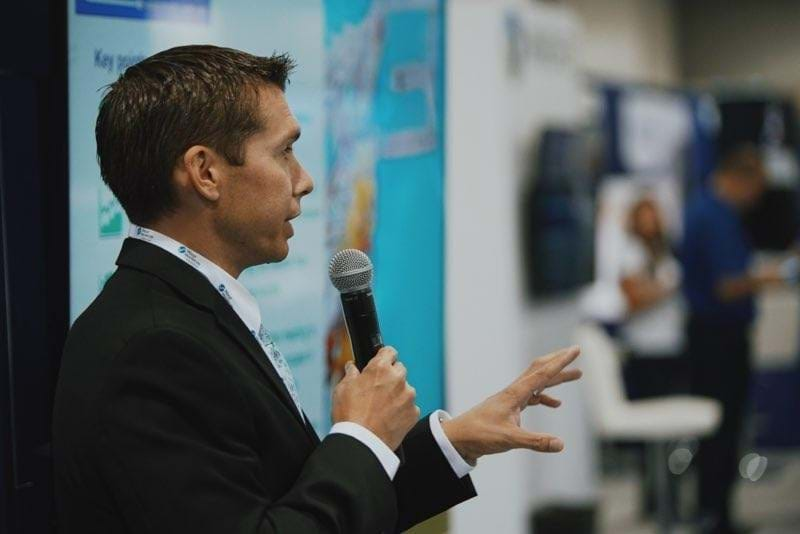 Rob Clarke presents at URTeC 2019.
22 July, 11:10am MDT:
We get very excited by record IP and test rates, but what after that?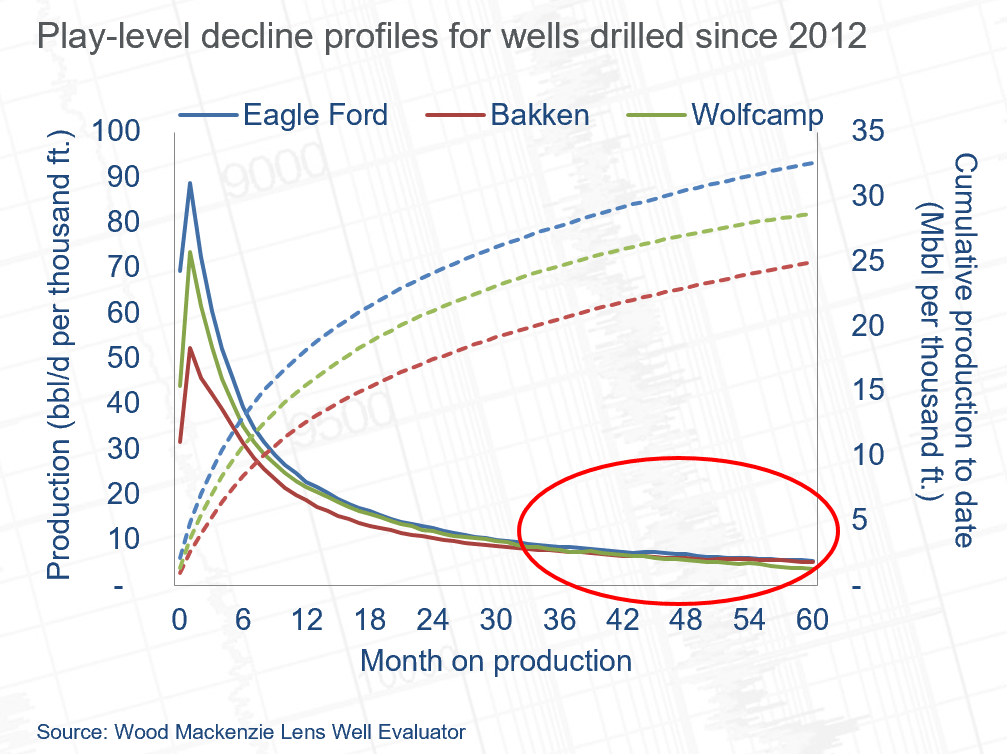 Less production history for horizontal Permian tight oil wells means long-term decline values from general 'shale' declines are often applied to Wolfcamp type curves as a proxy.
Not recognising risk in this and modelling with lower proxy values could result in overstating production potential and overvaluing projects.
Building evidence suggests that the most active Wolfcamp sub-plays have annual well oil declines greater than 10% even after being online for five years.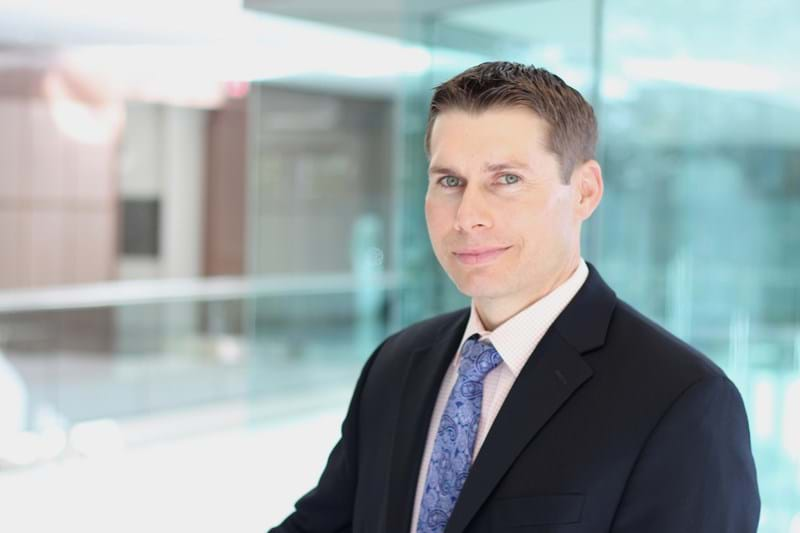 Rob Clarke presents at URTeC 2019
22 July, 10:15 MDT:
Faster-than-expected declines in older wells are likely to add to the pressure for more deals. I spoke to JPT about my upcoming URTeC presentation in Exhibit hall A.
Our study found that production from older Permian tight-oil wells has been declining at double-digit rates.
That means less cash flow. The faster decline rates will require more wells to fill that gap.
Rather than pay to drill more wells to meet those projections, companies will be looking for opportunities to acquire lower-cost barrels through deals.
Check out my presentation starting at 11am MDT in Exhibit Hall A.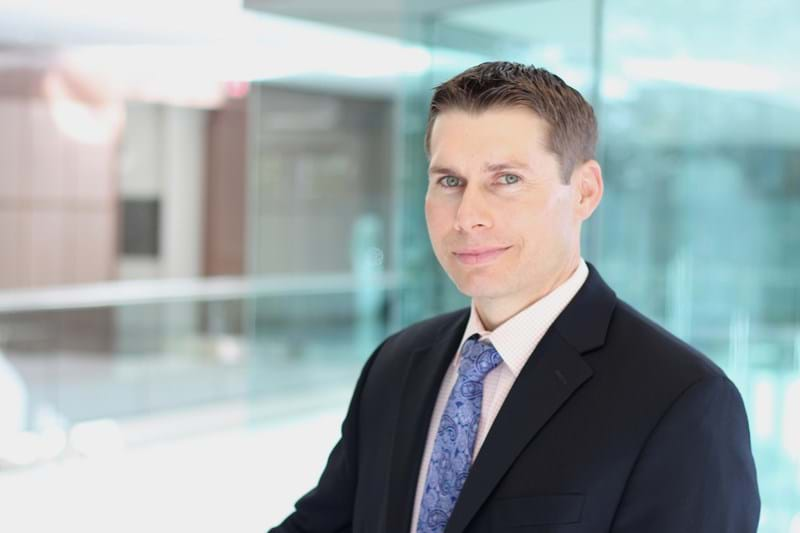 Rob Clarke will present a technical paper at URTeC 2019.
22 July, 7:30am MDT:
Greetings from Denver. On behalf of the entire Wood Mackenzie team, I'd like to invite URTeC 2019 delegates to booth #1323 to demo Lens, our data powerhouse. If you are looking for high-caliber Lower 48 data that's scrubbed and polished, we have the solution for you.
As we continue to roll out new features in Lens, we hope you take the journey with us. Our latest iteration will include top-knotch lease data from our partners at P2 Energy Solutions to perform geospatial analytics.
Our new combination of cost, production, wellbore path and lease data will create an unmatched solution. With Wood Mackenzie's Lens platform, long, tedious valuation workflows will now take minutes, rather than hours.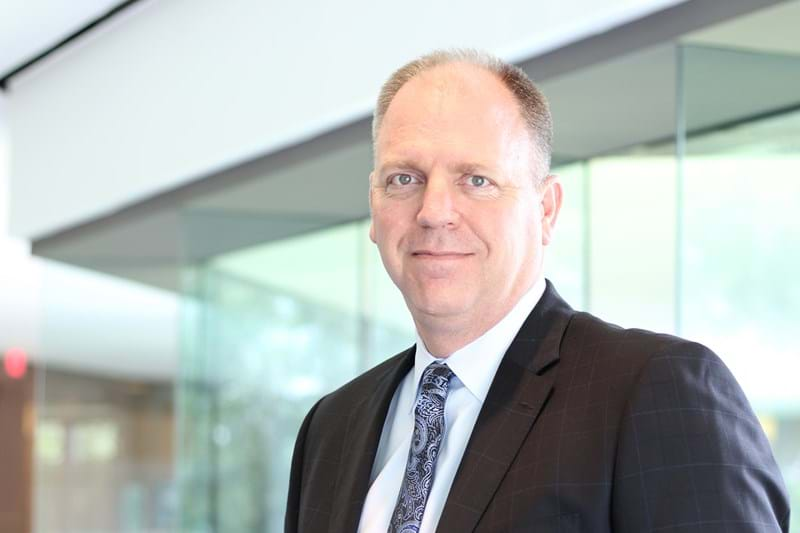 Tom Wilker, SVP, Subsurface.
19 July, 9am CDT:
How do you optimize future development for an area of interest with raw lease data? It's not easy.
We've partnered with P2 Energy Solutions to solve this challenge. With our new technology, you can better understand an area of interest like the 10,000-acre sample highlighted in yellow below.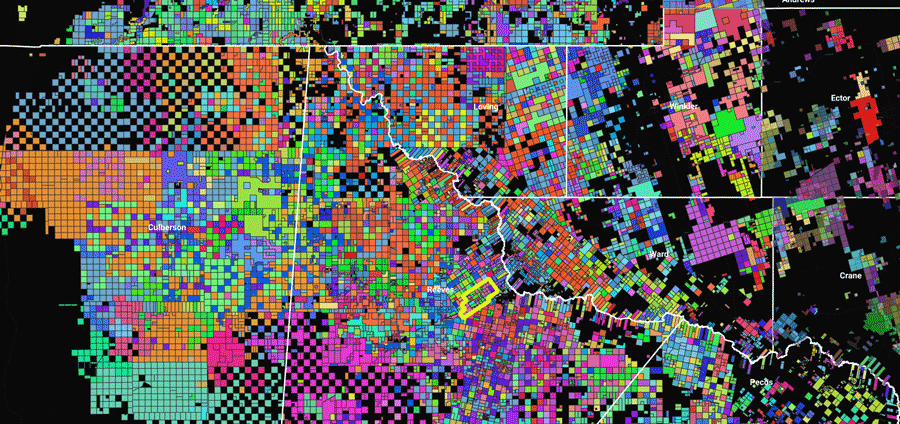 P2-Tobin pooling unit data simplifies the land planning process. I'll show you how to hone in from a chaotic and complex data set to create trained models that optimally space undrilled locations inside each drilling unit: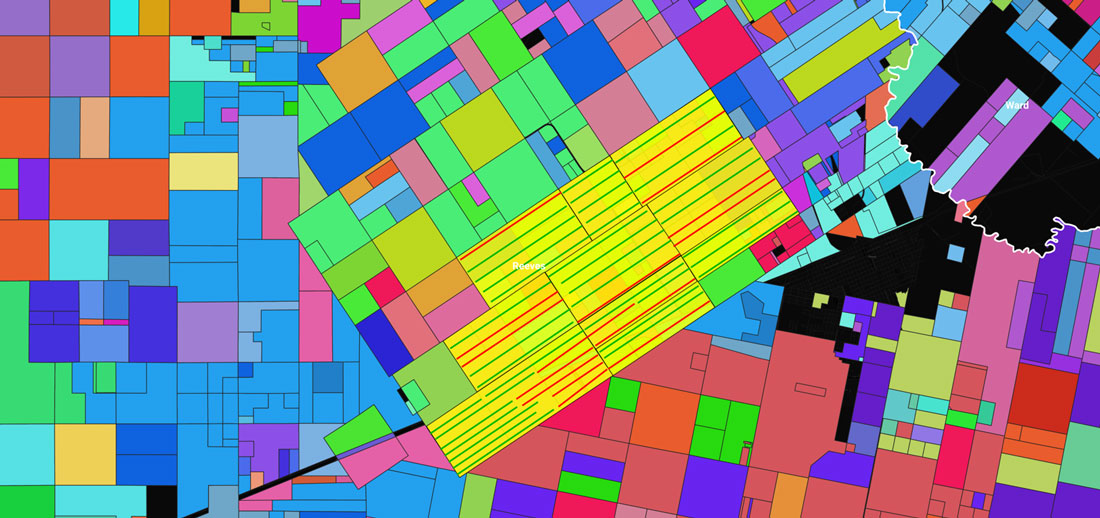 Want to see how it's done? Visit me at booth #1323 at URTeC to get the full story.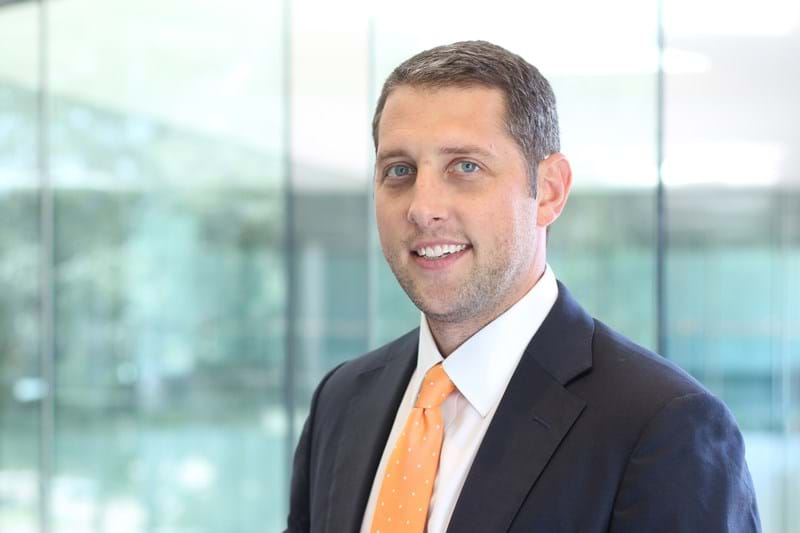 Andrew Utz will demo Lens technology at URTeC.
17 July, 1pm CDT
The entire Permian production cost curve is shifting as produced water volumes expand, posing a risk to production growth in the most prolific US shale play.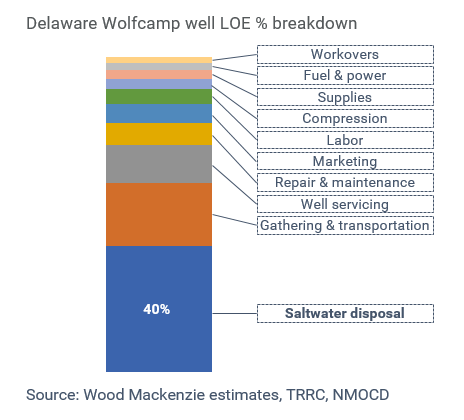 Today, saltwater disposal makes up 40% of estimated Delaware Wolfcamp well lease operating expenses. With produced Permian water volumes projected to nearly double from 10 million b/d in the next four years, the cost of water management is bound to surge.
Check out Ryan Duman's upcoming presentation at the Unconventional Resources Technology Conference in Denver on 24 July. My presentation, "Permian Produced Water: Impact of Rising Handling Costs and Larger Water Cuts on Wolfcamp Growth" takes place at 9:20am in Room 601/603.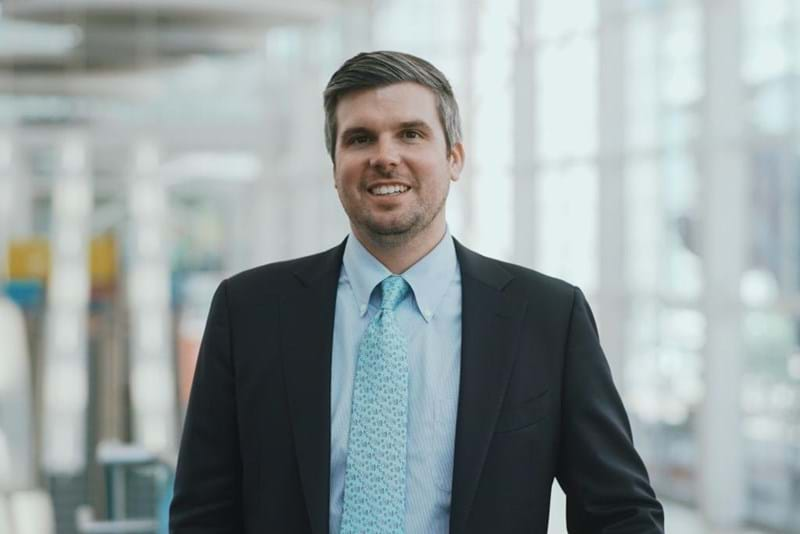 Ryan Duman will give a technical presentation at URTeC 2019.
15 July, 8am CDT
Now that the dust is settling from Occidental's aggressive grab of Anadarko, tight oil M&A has gone relatively quiet. This is especially the case with private companies who were anticipated to be big sellers. Halfway through 2019, we're on track for less than two-thirds of the tight oil deals with private and PE-backed sellers we modelled last year.
US shale M&A landscape perking up in lower price range
Although total spend is down, there are M&A standouts. Where? Much smaller deals are sailing under the radar, especially against the contrast of the highly-publicized Anadarko deal.
Today's deals are less prone to headlines and may be outside the Permian in more PDP-rich basins like the Bakken, Large public companies are still scooping up small patch-ins.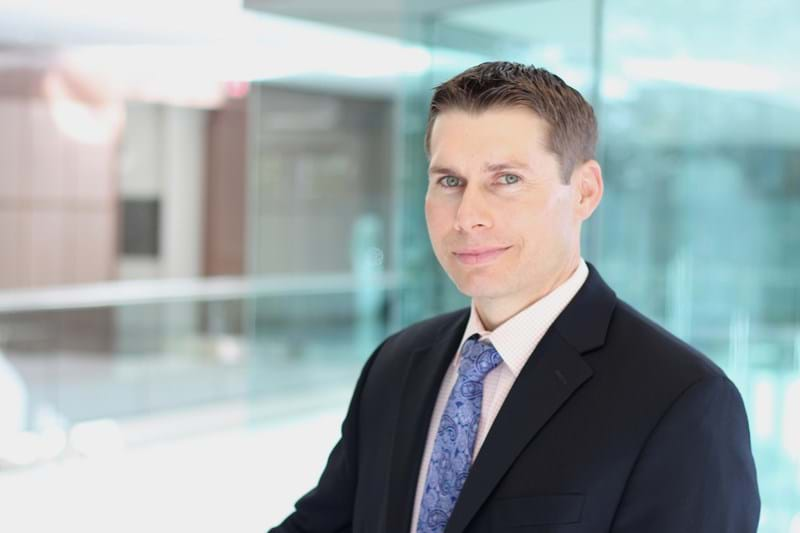 Robert Clarke will give a technical presentation at URTeC 2019.
14%
The most common terminal decline value observed in mature horizontal Wolfcamp wells
12 July, 10:30am MDT:
AAPG Explorer interviewed Ryan Duman, senior analyst of Lower 48 upstream, about the growing concerns around tight oil declines rates in the Permian, particularly in the Wolfcamp sub-play.
"The challenges of modeling tight-well estimated ultimate recoveries (EUR) are growing, and accurately selecting a representative terminal decline rate is not always straightforward," Duman told AAPG Explorer.
Wood Mackenzie analysis found that Permian conventional vertical well decline rates have fallen between 5-10% annually. but the most common terminal decline value observed in mature horizontal Wolfcamp wells is 14%.
"Using those (past) assumptions for today's Wolfcamp wells in the Permian may contribute to inaccurate volume assessments and valuations," he said.
Read the full article here.
Join Ryan and Robert Clarke, research director, on 22 July for "Faster Tight Oil Decline Rates Could Mean Growing Project Spend and More Deals" at Exhibit Hall A at 11am at URTeC 2019 in Denver to hear more on this topic.
11 July, 8:35am CDT:
Would your operations survive in a match up against the majors? At URTeC this year, I'll show how operators can use Lens Well Evaluator to benchmark companies, assets and operations in the Delaware Basin Wolfcamp play.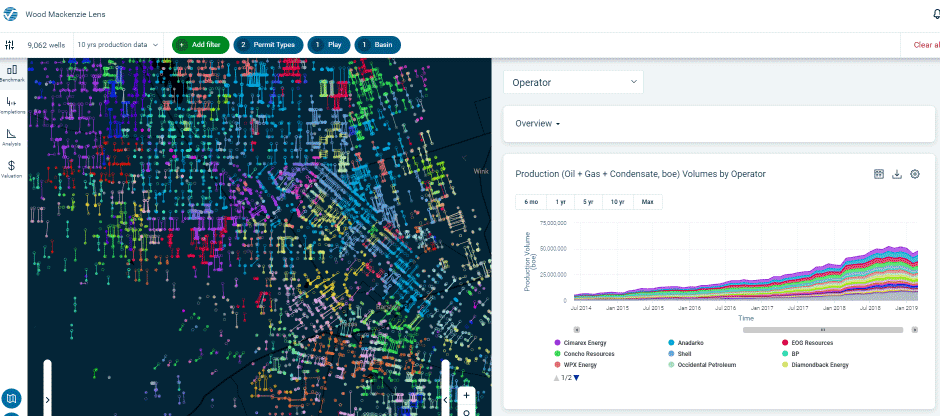 With Well Evaluator, users can visualize thousands of well sticks at a time, giving insights into well spacing and production volumes.
Stop by booth #1323 for two opportunities to catch my presentation: Benchmarking the majors. I'll present at 3:15pm on Monday, 22 July, and at 10:15am on Wednesday, 24 July.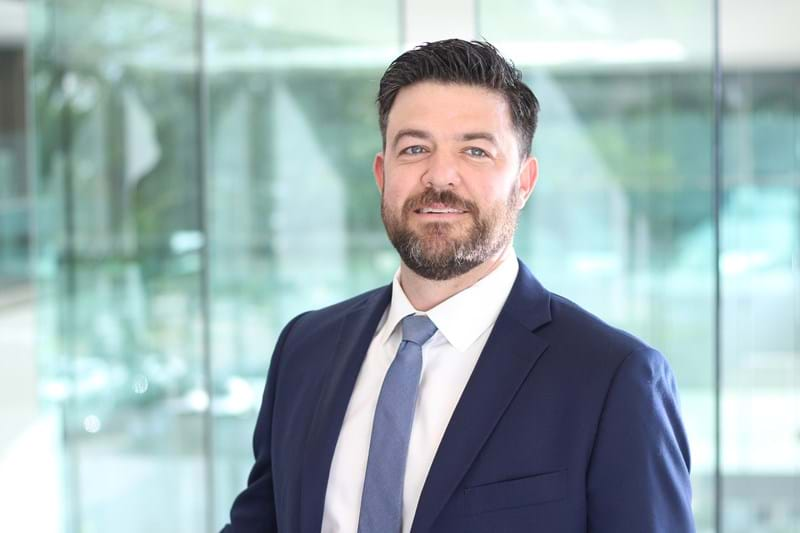 Jake Sharp will demonstrate benchmarking with Lens Well Evaluator at URTeC 2019.
9 July, 12:30pm CDT:
In the Permian, accelerating GORs cause ripple effects throughout the natural gas marketplace. The most visible impact spurs from a mismatch between surging gas production and constrained takeaway pipelines. Waha gas prices have tumbled to record lows, hovering in extreme negative territory and forcing well shut-ins from producers like Apache and Chevron.
Permian gas production is poised to grow by up to 4 bcf/d between May and December 2020, heightening price pressure and further impacting modelling adjustments necessary as GOR rises.
How can producers and midstream companies monetize growing Permian Basin supply, particularly the price-disadvantaged gas and NGL markets?
Join me on July 24 at 11am for "Monetizing Growing Permian Basin Supply: A Holistic Midstream Approach To Understanding Potential Bottlenecks" Session 336-12A – Overcoming Gridlock: Unlocking the Midstream Bottleneck at URTeC 2019 in Denver.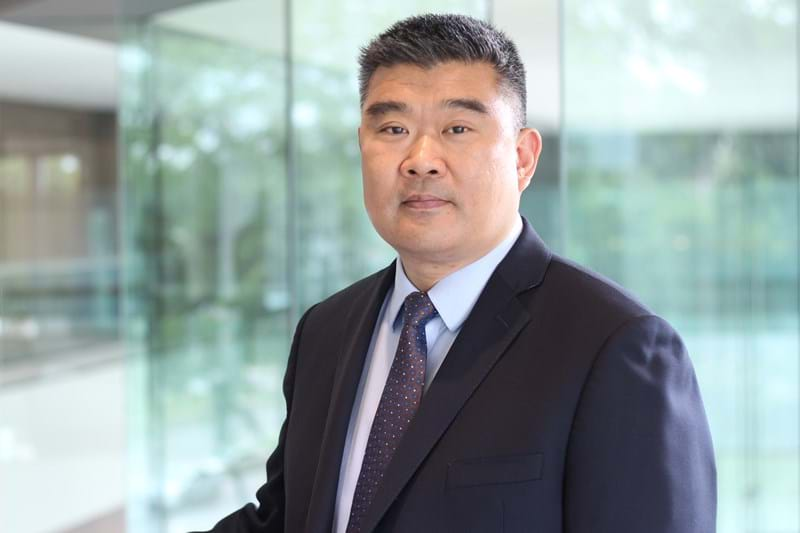 Eugene Kim comments on Permian gas-to-oil ratios.