Sign up today to get the best of our expert insight in your inbox.
Sign up for The Inside Track
For details on how your data is used and stored, see our
Privacy Notice
.
Opinion
Electric vans on the brink of a commercial breakthrough
There is a dispute over whether the US Postal Service should buy EVs, but the private sector is pressing ahead with orders.

Ed Crooks
Vice-Chair, Americas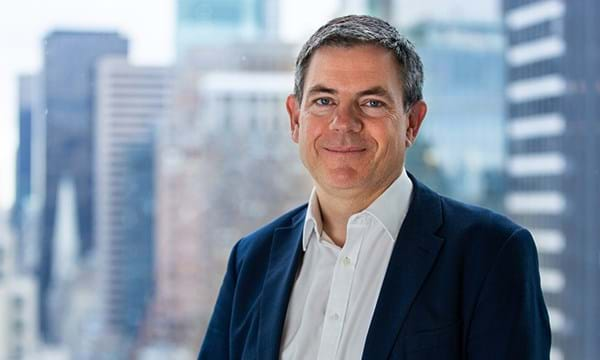 Benjamin Franklin, who led the forerunner of the US Postal Service before the American Revolution, was a great innovator, always looking for new ways to improve the speed and efficiency of the mail. He was also fascinated by electricity, and coined the word "battery" to mean a machine for storing an electrical charge. So he would probably not have been surprised by the idea that the postal service could one day be using vehicles propelled by electricity to deliver the mail. Seasoned political operator that he was, he would very likely also have been unsurprised to learn that the idea would be the subject of an intense and sometimes heated debate.
The argument over delivery vans for the USPS has emerged as an early challenge for President Joe Biden's ambition for the US to "win the EV market". It is important to see the dispute in context, however. Whatever the federal government decides, the private sector is about to lead a huge surge in US sales of electric commercial vehicles.
In his first full week in office, President Biden set up a National Climate Task Force to work on strategies for cutting US greenhouse gas emissions. Among other responsibilities, the task force is charged with drawing up a plan by late April for advancing procurement of "clean and zero-emission vehicles for federal, state, local, and tribal government fleets, including vehicles of the United States Postal Service". President Biden said his goal was to "harness the purchasing power of the federal government to buy clean, zero-emission vehicles that are made and sourced by union workers right here in America".
The federal government owns a fleet of about 640,000 vehicles, roughly 8% of the total US commercial vehicle stock. Of those federal vehicles, about 225,000 — more than a third — are operated by the USPS. Buying EVs for the USPS would be a crucial step towards the electrification of the federal fleet. And delivery vans, which follow known routes every day and return to a depot every night, are an ideal use case for EVs. But in February, the USPS announced a multi-billion dollar contract to buy up to 165,000 delivery vans over the next ten years, with no commitment that they will be electric. The USPS says the vehicles will have either internal combustion engines or battery electric powertrains, "and can be retrofitted to keep pace with advances in electric vehicle technologies". Louis DeJoy, the Postmaster General, suggested to Congress that only 10% of the new trucks might be EVs.
The announcement raised a storm of protest from EV advocates. A petition launched by environmental groups accused the USPS of having "flouted Biden's promise to the American people". Democratic members of Congress backed a resolution in the House of Representatives urging the USPS to freeze the contract.
The USPS says it can go all-electric, or close to it, by the end of the decade, but there will be an additional cost to taxpayers. The USPS strategic plan, published last month, says that with an extra $8 billion from Congress, the service can commit to having a majority of its delivery fleet as EVs within ten years, and a fully electric fleet by 2035. The clock is ticking for Congress to make that decision: the USPS plans to specify the mix of EVs and ICE vehicles in its first order by July, with the order itself going out in February next year. The first of the new vans are intended to enter service in 2023.
Federal procurement of EVs can be a useful component of a strategy for electrifying road transport in the US, according to a study published this week by the University of California, Berkeley. But although the USPS contract is certainly significant, it is about to be greatly outweighed by private sector purchases of electric commercial vehicles, according to Wood Mackenzie's analysts.
Like the USPS, many businesses use trucks that travel short, predictable distances. The average US single-unit truck – a classification used by the federal government that includes vans – drives about 50 miles per working day, well within the range of today's EVs, and they can often return to a depot for charging every night. As EV costs fall, lifetime all-in costs are becoming increasingly competitive against ICE vehicles.
Companies including Amazon, UPS and DHL have been placing orders for thousands of electric vans. FedEx said last month that EVs will be 50% of its delivery truck purchases by 2025 and 100% by 2030, giving it an all-electric fleet by 2040. Manufacturers including Ford, General Motors and Rivian, which has an order for 100,00 vehicles from Amazon, are bringing new EV van models onto the market.
Wood Mackenzie's latest forecasts show that this year there are only about 2,000 pure EV light and medium trucks on the roads in the US, but there will be more than 200 times as many by the 2030s. As usual with the adoption of energy innovations, policy can play a significant role, but it is the changes driven by the private sector seeking out more competitive technologies that tend to be the fastest and most durable.
US-hosted climate summit aims to galvanise efforts to curb emissions
President Biden is next week hosting an online climate summit for 40 world leaders, intended to be "a key milestone" on the road to the COP26 conference in Glasgow in November. His goal is to "underscore the urgency – and the economic benefits – of stronger climate action", but indications so far are that he is having difficulties persuading some crucial countries to see it the same way.
COP26 is the most important climate summit since COP20 in 2015, which adopted the Paris climate agreement. That accord set a goal of limiting global warming to "well below" 2° C, and planned for countries to operate on a 5-year cycle of increasingly ambitious climate actions to achieve that objective. That first round of increased ambition was scheduled for last year but postponed because of the pandemic, and is now supposed to happen this year.
Getting on a pathway for emissions that is consistent with the 2° C objective will require a big shift from the path we are on now. Alok Sharma, the former UK business secretary who is now president of COP26, warned last week that the world was "a long way off" from meeting the Paris goals.
That is the key reason why the Biden administration has been ramping up its climate diplomacy. John Kerry, the president's special envoy for climate, has been in China this week, carrying his message that "China, nearly 30% of the world's emissions, is essential to resolving this crisis… This is not a moment where any nation cannot step up to raise the ambition that Paris envisioned". So far, though, hopes of some eye-catching new emissions pledges from the countries attending the summit have fallen flat. As Politico put it this week, President Biden has been "coming up empty" in his hunt for bold new climate pledges.
The run-up to the US-hosted summit has been a warning not to expect too much to come out of it. But many key leaders are expected to attend, including presidents Xi Jinping of China and Vladimir Putin of Russia. The energy and climate worlds will be watching closely for indications about the future direction of energy policy. The US is expected to set a goal of cutting greenhouse gas emissions by about 50% from 2005 levels by 2030. It may also call for an end to government-backed financing of coal projects worldwide and restrictions on support for natural gas.
Talks over Iran's nuclear programme and sanctions continue, despite heightened tensions
Indirect talks between the US and Iran have continued this week, with the aim of reaching a deal that will persuade the US to rejoin the 2015 international agreement over Iran's nuclear programme and ease the sanctions it has imposed in recent years. The first day of talks last week was described by both sides as "constructive", but this week some of the issues that will present obstacles to an agreement became more evident. Tensions were raised over the weekend by what appears to have been an Israeli attack on Iran's Natanz nuclear facility, which reportedly did extensive damage. An explosive device is said to have been smuggled into the facility and detonated remotely, although there may also have been a cyberattack.
Iran said that in response it would begin to enrich some uranium to 60%, which is well above the 3.67% limit imposed under the international agreement, although still short of the 90%-plus level needed for nuclear weapons. It has already moved out of compliance by starting to enrich uranium to 20%, but its plan to go further is a blow to the optimism surrounding the talks. France, Germany and the UK expressed "grave concern" at the decision, which further undermines the status of the agreement, while US secretary of state Antony Blinken called it "provocative". He added: "The step calls into question Iran's seriousness with regard the nuclear talks".
In brief
Royal Dutch Shell has published a 36-page document setting out its energy transition strategy, as a way to explain to investors and other stakeholders how it intends to become a net-zero emissions business. The strategy will be put up for an advisory vote of shareholders at the company's annual general meeting on May 18. The vote is non-binding, but clearly if investors holding a majority of the shares indicate that they are unhappy with the direction the company is taking, that will send a strong signal to management. The document covers topics including the company's own emissions, the outlook for global energy demand, and regulatory pressures. The elevator pitch is made by chief executive Ben van Beurden, who writes: "By transforming our business in line with our energy transition strategy, we will contribute to achieving a net-zero emissions energy system, help society reach its climate goals and create a compelling investment case for our shareholders, today and in the future".
The Global CCS Institute has published a very useful overview of the current state of carbon capture and storage technology.
And finally: a bid to bring back the Age of Sail. Wallenius Marine, a Swedish ship designer, has been developing a sailing cargo ship called the Oceanbird, which it says will be able to achieve average speeds of 10 knots with 90% less emissions than a standard diesel-engined equivalent. The 200-metre Oceanbird has five 80-metre "wingsails", looking quite like aircraft wings, which can be retracted to 25 metres in bad weather or to pass under bridges. The speed allows an Atlantic crossing in about two weeks, which is significantly slower than today's container ships, but that may not be too much of a competitive disadvantage as there is already a trend to use slower speeds as a way to cut emissions.
It has been suggested that the first Oceanbird could be ready for its maiden voyage in 2024. If the design works, it could be an attractive option for marine transport, which is one of the sectors where it seems particularly challenging to achieve deep cuts in emissions.
Other views
Mark Oberstoetter and Mfon Usoro — Could restricting oil production in the US Gulf of Mexico lead to carbon leakage?
Amy Bowe — Counting carbon: how to set oil and gas industry emissions targets
Simon Flowers — Getting serious about tackling global warming
Gavin Thompson — Myanmar's woes increase
Noah Smith — Why has climate economics failed us?
John Kemp — Asia and the great reconvergence
Liam Denning — Why don't Europe's oil Majors sell assets to Americans?
Katy Balls — The green games: the Prime Minister's big plan to rebrand Britain
Quote of the week
"I've come to conclude that climate change is real, that human emissions create greenhouse gas effect that traps heat, and that you see a rise in the oceans and acidity in the water and droughts and disruption of weather patterns. That makes sense to me… Count me in for accelerating the electrification of the transportation system." — Lindsey Graham, a Republican senator from South Carolina, explained at a hearing of the Senate's budget committee why he supported actions to address the threat of climate change, including federal support for energy R&D and higher fuel taxes. Senator Graham was a leading advocate for bipartisan action on climate change more than a decade ago, when President Barack Obama was trying to win support for legislation to curb greenhouse gas emissions, ultimately without success.
Chart of the week
This comes from the latest in our series of Horizons reports, looking at the big issues in energy and natural resources for the long term. The report, titled "Reversal of fortune", looks at the question of what might happen to oil and gas prices if the world's governments do get serious about achieving that Paris agreement goal of limiting the global temperature rise to well below 2° C. The conclusions are striking. In that world, demand for both oil and gas are lower, as you might expect, but demand for gas is more resilient, and that has some radical consequences for pricing. Throughout the industry's history, gas has almost always been priced at a discount to oil, for an equivalent energy content. But in a world in which oil demand slumps while gas demand declines much more gently, gas could actually be priced at a premium. In a 2° C world, shown by the purple bars here, gas prices exceed oil prices in the 2030s for LNG in Asia and the 2040s even for Henry Hib gas onshore in the US. It is always important to remember with these cases that they are simply scenarios showing what could happen, rather than our base case showing what we think is most likely to happen. But given the mounting pressure on the governments of the world to live up to the Paris goals, it is a valuable exercise to explore what that might mean.