Discuss your challenges with our solutions experts
Get in touch
For details on how your data is used and stored, see our Privacy Notice.
Opinion
Asia Pacific: a changing outlook for commodities
A preview of our Energy & Natural Resources Summit: APAC
Powerful forces are shaping Asia Pacific's energy future. The lingering impact of the global pandemic, geopolitical disruption, supply chain challenges and rising costs are colliding. Around the world, established energy and commodity flows have been thrown into turmoil and new trade balances are emerging.
Meanwhile, the energy transition is gathering pace. The pressure to accelerate the shift to a lower-carbon future is very much on.

What does it all mean for Asian markets? How will governments, corporates and investors adjust to the changing landscape? What can be learned from other regions' energy transition experience as Asia Pacific forges its own path?

We'll be exploring these questions, and much more, on 13 September at our Energy & Natural Resources Summit: APAC. Our experts will be joined at this in-person event by speakers from top renewable developers and utilities, transmission operators, regulatory bodies, investment entities and technology providers.

Find out more about the full agenda here. And read on for a preview from just a few of the experts you'll hear from on the day.
Gavin Thompson, Vice Chairman, Energy – Asia Pacific:
The energy crisis is focused on Europe, but Asia is not immune. And while extraordinary volatility in energy prices and energy security concerns are supporting massive growth in renewable energy across the region, many Asian markets are also maximising cheap domestic coal to meet their immediate energy needs – often at the expense of natural gas.

This can only be a short-term measure if Asia's decarbonisation goals are to be achieved. At the APAC Energy and Natural Resources Summit I'm looking forward to hearing from key industry leaders on what must be done – from the supply of critical metals to the outlook for hydrocarbons to the policies needed to ensure Asia remains on course for net zero. We're going to be covering it all!
Gavin Thompson will host a keynote interview with Julien Pouget, Senior VP Asia Pacific, Exploration & Production and Renewables, TotalEnergies.
Simon Flowers, Chairman and Chief Analyst:
Asia Pacific's high-growth economies are the big targets of the world's energy and metals producers. How these countries' energy mix is shifting in the light of the war affects every commodity; and how governments position for net zero goals has implications for every company and investor in the sector. I'm excited to be joining the debate around these themes with our keynote speakers, panellists and WoodMac colleagues.
Simon Flowers is hosting a keynote interview with Vandita Pant, Chief Commercial Officer, BHP.
All eyes have been on the European energy market in recent months, but Asia Pacific remains the big story for long-term demand growth.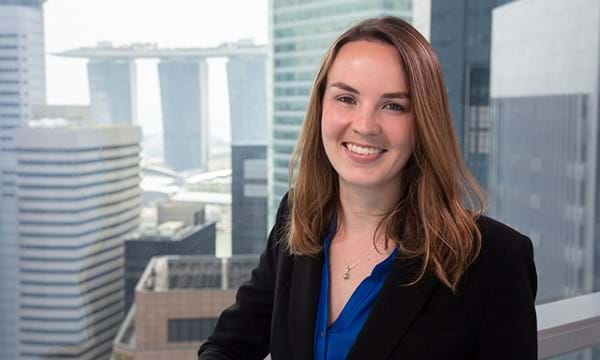 Lucy Cullen
Research Director, APAC Gas & LNG Research
Lucy is primarily focused on supply, demand, contract and price analysis for the Northeast Asian markets
Latest articles by Lucy
View Lucy Cullen's full profile
Lucy Cullen, Principal Analyst, APAC Gas & LNG Research:
All eyes have been on the European energy market in recent months, but Asia Pacific remains the big story for long-term demand growth.
I look forward to seeing leaders from across the Asia Pacific energy industry, policymaking, financing and technology circles come together to debate the unique challenges this region faces as it seeks to decarbonise and maintain growth, and access the opportunities presented by energy transition 'the Asia way.'
How players balance affordability, energy security and decarbonisation concerns and the future role of coal and gas alongside renewables are just some of the themes we will explore.
Lucy Cullen is taking part in a panel discussion on Navigating the energy crisis – policy, financing and opportunities amid record prices.
Malan Wu, Head of Steel & Raw Material Markets:
Europe has led on policy intent and business action towards the energy transition. The region's net zero journey, and its ongoing response to the price and supply shock from the Russia-Ukraine crisis, provide valuable lessons for the rest of the world.

I will join a panel of inspiring female leaders to share our views on a just transition in the Asia Pacific region, bringing my perspective on the role the mining sector plays in enabling the shift to a low-carbon future. As a diversity and inclusion champion, I'm particularly keen to discuss the crucial importance of empowered female leadership in the energy transition – and what it takes to achieve it.
Kavita Jadhav, Research Director, Corporate Research:
A key part of the discussion will be around how Asia Pacific can achieve a just transition, one that balances economic development and decarbonisation. Europe's journey undoubtedly provides learnings for other regions. The panel session I'm joining will bring together female leaders to share their views on what could work for Asia Pacific.
I cherish the privilege of having these very accomplished women around the table, taking the time to share their views. It will be a career first for me to be part of an all-female panel of energy leaders. I believe the energy transition is creating opportunities and opening the energy sector to more diverse and inclusive leadership. Our discussion will shine a spotlight on this shift.
Malan Wu and Kavita Jadhav will take part in the panel discussion Women in energy and metals and mining – a just transition in Asia Pacific.
A key part of the discussion will be around how Asia Pacific can achieve a just transition, one that balances economic development and decarbonisation.
Kyeongho (Ken) Lee, Principal Analyst, Asia Pacific Power & Renewables:
With so much focus on boosting green power and reaching net zero, we sometimes forget the challenges of integrating intermittent renewable energy into the grid. Quick-response power technologies such as gas turbines and battery storage can play a critical role in accommodating solar and wind generation.
I look forward to joining with senior leaders across renewables, battery storage, and traditional thermal technologies to discuss the role flexible generation will play in keeping the lights on in the future.
Ken Lee is hosting the panel session Achieving net zero in APAC – are we backing the right technologies?
Derryn Maade, Head of Metals and Mining Markets:
Our panel tackles a really exciting topic that brings together global providers of capital and the mining industry to tackle the most pressing challenge in this space today: how to equitably enable the energy transition.
Derryn Maade will join the panel discussion The role of metals in the transition – underpinning or undermining progress?
Yanting Zhou, Principal Economist, APAC:
New energy pathways are emerging for both China and India as the pressure to decarbonise intensifies. We'll be discussing both the similarities and differences in how these two countries are approaching net zero goals – and the implications for the rest of the world.
Sushant Gupta, Research Director, Asia Pacific, Refining and Oils Market:
Both China and India will need higher energy imports at affordable prices on their journey towards net zero. How far will Russia's resource pivot to Asia go? Could it improve energy security for China and India? Our session will tackle these questions, and more.

Yanting Zhou and Sushant Gupta will host a panel discussion on China, India and the new energy disorder.
Join the conversation
Wood Mackenzie's Energy & Natural Resources Summit: APAC takes place on 13 September in Singapore. Find out more.