The Edge
Challenges in a growing LNG market
LNG – surfing the wave

Simon Flowers
Chairman, Chief Analyst and author of The Edge
Simon Flowers
Chairman, Chief Analyst and author of The Edge
Simon is our Chief Analyst; he provides thought leadership on the trends and innovations shaping the energy industry.
Latest articles by Simon
View Simon Flowers's full profile
Gas looks the best bet of the fossil fuels through the energy transition. Coal demand has already peaked while oil has a decade or so of slowing growth before electric vehicles start to make real inroads in transportation. Gas, blessed with lower carbon intensity and ample resource, is set for steady growth through 2040 on our base case projections.
LNG is surfing that wave. The LNG market will more than double in size to over 1000 bcm by 2040, a growth rate eclipsed only by renewables. A niche market not long ago, shipped LNG volumes will exceed global pipeline exports within six years.
The bullish prospects will buoy spirits as industry leaders meet at Gastech, LNG's annual gathering – held, appropriately and for the first time, in Houston – September 17-19.
LNG trumps pipe exports...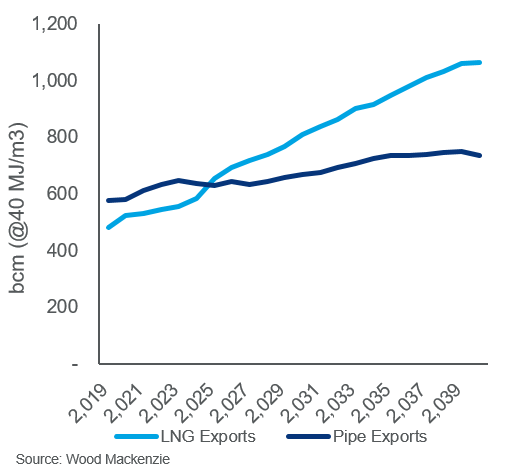 ...as the big suppliers crank up volumes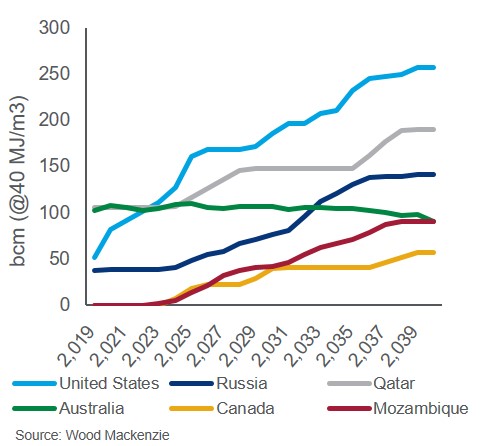 Investors are scrambling to grab a piece of the action. We are witnessing a supply boom the scale of which the industry has never experienced before. Around US$240 billion will be spent between 2019 and 2025 on greenfield and brownfield LNG supply projects, backfill and finishing construction for those already underway.
50% to be added to global supply
In total, these projects will bring another 182 mmtpa to market, adding 50% to global supply. Over 100 mmtpa is from the US alone, most of the rest from Qatar, Russia, Canada and Mozambique. Still, more capital will be needed to meet demand growth beyond the mid-2020s. But the rapid growth also presents major challenges for sellers and buyers to adapt to changes in the market.
There is a risk of bottlenecks as this new supply arrives on the market. The industry will have to balance sizeable waves of fresh sales volumes with demand growing in fits and starts and across an array of disparate marketplaces – some mature, many fledgling, a good few in between.
Key LNG growth markets face teething problems
India has built three new re-gas terminals, but imports are actually down in 2019. The pipeline network to get the gas to regional consumers has yet to be completed. Pakistan has a gas distribution network serving its northern industrial centres. But the main LNG import terminals are in the south of the country, and the commitment to invest in additional transmission lines taking gas north is fraught with political uncertainty.
China is still wrestling with third-party access and regulation of the pipeline business that is PetroChina's core asset. Any delay could dull the growth rate in Asia's LNG hotspot. Europe is at the early stages of replacing its rapidly depleting sources of indigenous piped gas with huge volumes of LNG imports delivered to the coast. Will Europe's gas market adapt seamlessly to a growing reliance on LNG – especially when tested at extreme winter peaks? Time will tell.
Established business models are changing
The point-to-point business model that has served sellers (and buyers) so well over the last 60 years will be tested by market access and other factors. Buyers facing mounting competition in their domestic market will increasingly demand flexibility on volume and price, and contracts that are diverse in duration and indexation. These traditional suppliers risk leaving value, perhaps a lot of value, on the table.
In future, sellers need to be more sophisticated. The full toolkit will have a portfolio of LNG, a mixture of equity and third-party contracted gas; a trading capability to optimise on volume and price; and the requisite logistics – access to physical capacity of ships and re-gas terminals to shift LNG to where it's wanted. Enlightened producers have begun to move to an integrated model, better equipped to meet these demands and capture value through the chain. Pure traders will muscle in too.
Some integrated players will think big picture, LNG becoming central to an energy transition strategy. As Big Oil morphs into Big Energy, LNG will sit alongside a renewables and gas-fired power generation portfolio feeding all the way through to gas and electricity customers.
Fill in the form on this page to receive an advance copy of The Edge every week in your inbox.
Meet Simon at Gastech 2019
Meet Simon at Gastech 2019 to find out what's trending at in Houston. He'll be joined by Kristy Kramer, head of markets, gas and LNG research. in a fireside chat at 10:30am on Wednesday 18 September.
Find Simon, Kristy and the rest of our gas and LNG experts at booth K330.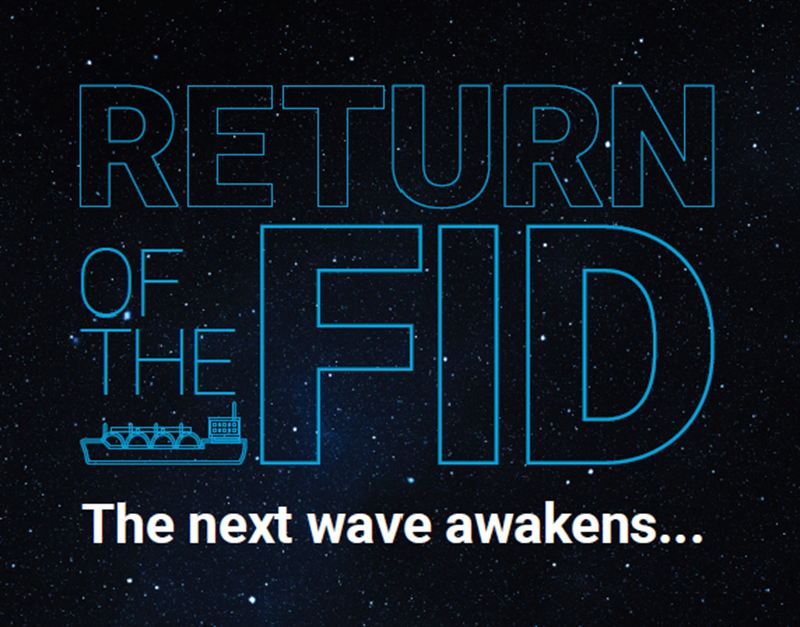 Gastech 2019