Sign up today to get the best of our expert insight in your inbox.
Sign up for The Inside Track
For details on how your data is used and stored, see our
Privacy Notice
.
Opinion
In conversation with Asia Pacific's energy and natural resources leaders
Resolving the current crisis cannot derail the energy transition

Gavin Thompson
Vice Chairman, Energy – Europe, Middle East & Africa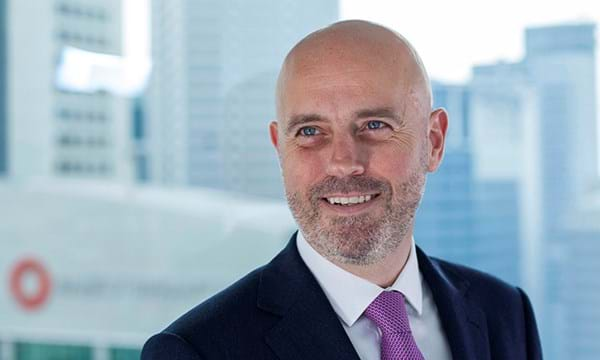 Gavin Thompson
Vice Chairman, Energy – Europe, Middle East & Africa
Gavin oversees our Asia Pacific research helping companies identify and build their international growth strategies.
Latest articles by Gavin
View Gavin Thompson's full profile
With the world in crisis and a 'winter of discontent' almost upon us, there couldn't have been a better time to host the APAC leg of our annual Global Energy and Natural Resource Summit in Singapore last week.
In our first in-person summit since 2019, we were privileged to welcome leaders from across Asia Pacific's energy, metals and mining, finance and regulatory sectors. How the world resolves the current crisis may have loomed large in all discussions, but we also looked further and deeper into Asia's energy transition.
Condensing the debate into five key themes was no easy task, but here's my take on the issues that are now shaping the future of energy and natural resources across Asia Pacific.
1) Investment in gas is essential to reducing Asia's dependence on coal
While few of our summit speakers were convinced fossil fuel demand would be disappearing anytime soon, the more urgent challenge is meeting more of this demand with low-carbon gas rather than a permanent fallback on coal.
Emission reduction concerns and the focus on gas to cut coal dependence remain a clear priority. The puzzle is now to ensure that the molecules Asia urgently needs are both available and affordable while simultaneously reducing emissions, including – ultimately – Scope 3. As the crisis has shown us, underinvestment in gas supply has rapidly translated into soaring prices, electricity shortages and social unrest.
Resolving underinvestment without addressing carbon is just kicking the emissions can down the road. As producers in the region look to ensure their projects emit as little carbon as possible, technical innovations are already underway in the US and Europe to lower emissions that will become mainstream in Asia faster than many think. But this doesn't mean that the region can only follow. In decarbonising LNG projects, for example, companies in Asia Pacific are already showing others how it's done.
The banking industry recognises this, with senior bankers making it clear that financing for new gas projects in the region is 'alive and well'. But financiers are expecting producers to reposition their upstream businesses towards advantaged assets. In Asia as elsewhere, banks will increasingly align access to capital with the goals of bodies such as the Glasgow Financial Alliance for Net-Zero (GFANZ) and policies such as EU Taxonomy.
2) Where are the world's critical metals going to come from?
Simple question, tough to answer. The world is going to require a phenomenal amount of investment in new mines to provide the metals needed to even get close to Wood Mackenzie's 1.5-degree scenario by 2050. Copper and aluminium production must double, nickel output needs to rise three-fold and the world will require nine times the amount of lithium produced today.
Listening to leaders from the mining sector debate this question, it is clear the current investment model needs rethinking. Most of us are fully aware that China dominates the supply chain for many energy transition metals, from production to battery manufacturing, but why is this?
One key reason is capital markets. For too long, western governments, investors and miners have viewed investment in energy transition metals differently from the Chinese government and its companies. Instead of investing through the entire value chain, as China has done, 'the west' has been preoccupied with minimising ESG risk and the volatility of returns. This preoccupation has translated into capital flowing mainly into those countries, projects and metals that are both acceptable to stakeholders and offer the most stable returns.
Historically, western capital markets would have looked at rising metal prices as a golden opportunity, and investment would have rapidly followed. But western miners have often been at the forefront of ESG awareness. This has meant numerous opportunities have been taken off the table, allowing China to fill the gap in perceived high-risk projects and countries. Add to this the fact that Chinese companies do vertically integrated investment better than anybody else, and China's dominance isn't difficult to fathom.
Here our panellists were not arguing for less ESG. Quite the opposite, as it is imperative these standards are upheld – and improved – across the industry. Indeed, it is widely agreed that those paying scant regard to ESG today will ultimately find consumers saying no to non-ESG-compliant metals and manufactured products in the future. But for now, the world now faces a binary choice. Either a low-carbon world with greater mining or a high-carbon world with less mining.
3) Keeping Asia Pacific's renewables ambitions on track
The profitability of new renewables projects is highly dependent on location. In some Asian markets, such as Vietnam, solar and wind projects have faced curtailment due to a policy-driven surge and cost increases. In merchant markets, existing renewable players have benefitted from high fossil fuel and power prices. However, we are starting to see signs of grids struggling to cope with the intermittency of renewables. And while renewables investors and project developers at the summit were confident this would be short lived, more must be done by governments and grids to address the challenges.
Key issues include the lack of certainty around renewables development processes and regulations lagging behind changes in the market. Add rising costs and the increasing need for storage solutions and the challenges have begun to mount.
Speakers at the summit repeatedly spoke about the need for a change in mindsets by governments. The industry has proven it can rapidly advance technology. What it needs now is policymakers to catch up. And with soaring fossil fuel prices pushing the region's generation costs to unsustainable levels, higher adoption of renewables should be the logical response.
4) China and India will ultimately define the shape of APAC's energy transition
Europe's decision to irrevocably turn away from Russian commodities provides a clear opportunity for China and India to diversify their energy sources and enhance their energy security. But if this is to be a permanent shift, then three questions must be answered. First, can major new infrastructure projects, particularly to supply India, be financed and built? Second, is a growing dependence on Russian hydrocarbons compatible with the decarbonisation goals of India and China? And third, is this rising dependence consistent with China and India growing their exports to western markets?
Both countries also face the monumental task of meeting their net zero targets. Combined, they account for 40% of global carbon emissions – and rising. The most obvious move for both is to reduce their dependence on coal. The move away from coal should happen in the latter part of this decade, but at what pace? Pragmatism rules in Delhi and Beijing and a cautious and planned approach can be expected. Balancing economic growth with an accelerated energy transition for both countries will not be easy.
5) It's time to build a just energy transition in APAC
For many, the most inspiring panel discussion of the summit was 'Women in Energy and Metals and Mining – A Just Transition in Asia Pacific'. As panel host Kavita Jadhav put it, "[at] Wood Mackenzie, we pride ourselves on introducing ideas to the industry conscience and in time, these ideas take on a life of their own."
As the distinguished, all-female, panel discussed, we are seeing an increasing number of women choosing to develop their careers in the energy transition. This is important not only as we look to correct the ongoing gender imbalance across the energy and natural resources industries, but also as we seek a more just energy transition. The panel's goal was to shine a spotlight on this shift. To give the final word of this APAC Energy Buzz to Kavita, "[the] energy transition provides a golden opportunity for greater gender diversity. We can all amplify this."
If you were unable to attend the Energy and Natural Resources Summit: APAC last week or if you want to watch any of our interviews and panels again, these are now available on demand.
APAC Energy Buzz is a weekly blog by Wood Mackenzie Asia Pacific Vice Chair, Gavin Thompson. In his blog, Gavin shares the sights and sounds of what's trending in the region and what's weighing on business leaders' minds.