Discuss your challenges with our solutions experts
Get in touch
For details on how your data is used and stored, see our Privacy Notice.
Editorial
Empowering the Vietnam renewables market
Meet our analysts at industry conferences
Traditonally covering the Vietnamese power market in our power research, Wood Mackenzie is now offering more this year by presenting to you some more detailed research on its domestic conventional power, LNG, wind and solar sectors:
Upcoming report: Asia Pacific offshore wind market outlook
Upcoming report: Asia Pacific solar market outlook
Along with the new research, our analysts will be speaking at industry conferences and expo in the Vietnam market.
PowerGen Asia, Malaysia, 3-5 September
"Vietnam's power demand is expected to grow at 7.6% CAGR until 2020, the highest in Southeast Asia."
Vietnam's wholesale electricity market was officially launched this Janurary after being piloted for a few years. However, the power supply is struggling to keep pace with demand and we expect the reserve margins to stay below the optimal level in the next four years. With the looming shortage in the market, the launch of the wholesale power market will likely witness additional challenges from high spot prices.
Join us in PowerGEN Asia
Vietnam Solar Energy Summit, 25-26 September
"The cumulative base for solar in Vietnam will grow by more than 75x in the next five years."
Vietnam is a rising star for solar installs. It will be the fifth-largest market in 2019 installing over 5 GW just in 2019. Over the next five years, around 10 GW of solar capacity is expected to be added to the install base. Feed-in-tariff (FIT) will continue to drive installations. The massive growth will also lead to grid congestion issues in selected regions. As the country transition to auctions from Feed-in-tariffs, the market is likely to slow down in the early 2020s before picking up growth as cost decline ensue.
Join us in Vietnam Solar Energy Summit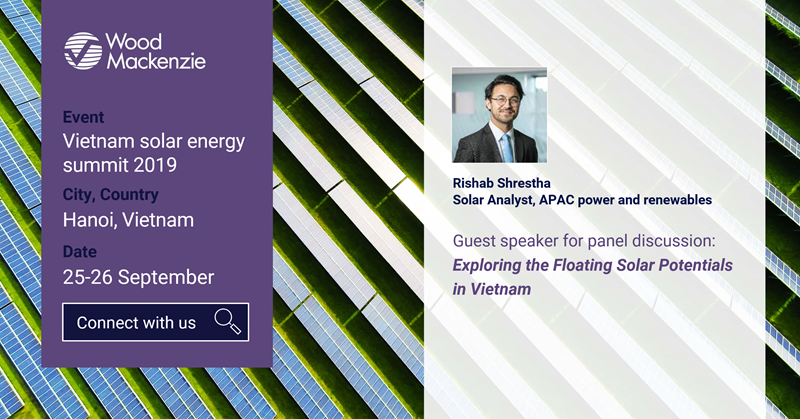 Rishab Threstha, solar analyst with Wood Mackenzie Power and Renewables
2nd Vietnam Renewables, 17 October
"Vietnam shows high interest in offshore wind; building up the supply chain is the key to success."
From key component supply to wind turbine manufacturing, from installation vessels to O&M service, each segment plays an important role. Despite large potential for offshore to support growing demand energy in Vietnam, offshore wind development is hindered by project financing challenges and PPAs that are not up to international standards.
Take a look at 2nd Vietnam Renewables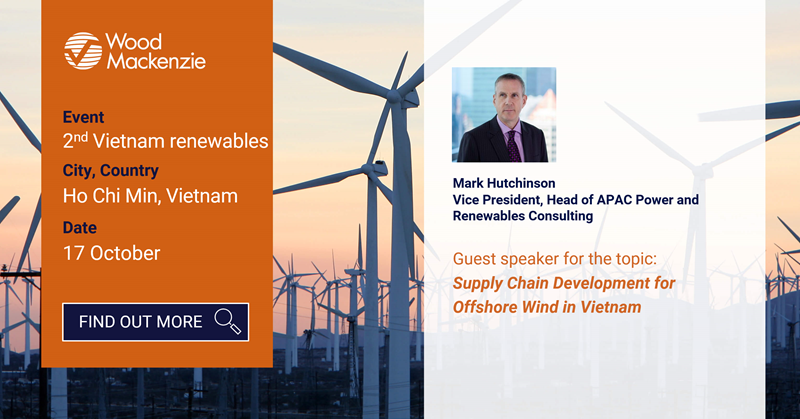 Feel free to connect with us by filling out the request form on the right column.